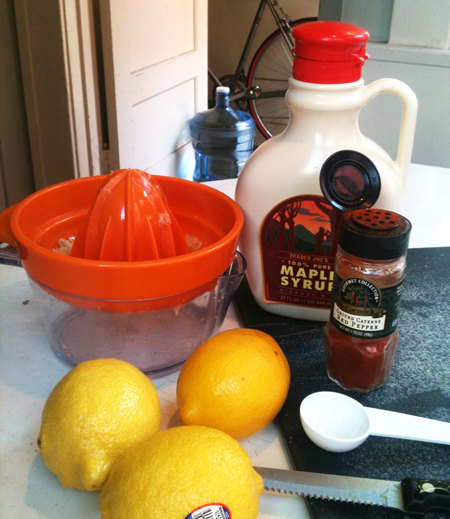 For the first time since babyhood, I haven't had a bite of solid food in 10 days. Surprisingly, I feel great. I'm currently wrapping up my first experience with the master cleanse– subsisting on fresh squeezed lemon juice with maple syrup & cayenne pepper. I've had a bunch of friends and family do it and recommend it, but I just never had the right moment or thought I really needed it. Thing is, I drink a LOT of whiskey, and double that amount in coffee, on a daily basis. When I realized I hadn't had more than a single night off the sauce for about a year, I figured it was time to focus and give my liver an early holiday gift. Thus, the cleanse. It's primarily a battle of the mind, but I'm proud to say I'm winning. I've been able to work, DJ, even do some light exercise. I'm always a healthy eater, but I feel like after this is over I'm going to appreciate food with a whole new intensity (for 3 nights in a row I've had food dreams!). Anyway, all of this is to say, I've also been in a very mellow mood, and these songs have helped keep me in the right mind state.
Hollie Cook : Body Beat & Milk And Honey
The daughter of Sex Pistol Paul Cook, and singer for The Slits, has teamed up with Prince Fatty and made an album of catchy retro reggae pop. What's not to love about this equation?
The Shoes : Baby (ft. Hollie Cook)
Speaking of Ms. Cook, apparently she teamed up with The Shoes and made this dubby electro head-nod masterpiece as well.
Benny Tones : Home (ft. Joe Dukie) & On My Way (ft. Mara TK)
Recent discovery thanks to Jeremy Sole. Check out the rest of Benny's very solid debut album on BBE.
Amp Live : Differ.e.n.t.
Considering I had a Zion I cassette tape in high school (TRUE!), I've seen Amp Live come a long way. Really feeling this instrumental off his new EP.
New Look : Nap On The Bow
Fresh sounds from Brooklyn = fresssssh indeed. Can't remember where I first heard this, but the hook slays me. Really looking forward to more from this moody synth pop duo, and it looks like they have an album
Trolle Siebenhaar : Sweet Dogs
My friend Marlee hipped me to this one. Simple throwback trip-hop goodness from a Danish duo. That little harmonica solo is a nice touch.
King Biscuit Time : I Walk The Earth
More mellow trip-hop (wow haven't even used that word in so long, today twice in one post!) from Steve Mason (ex-Beta Band frontman)
The Bees : Winter Rose
The Bees come through with more downer psych goodness on their latest album. Get it on Amazon for the bonus tracks
Air : How Does It Make You Feel? (Adrian Sherwood Version)
Shouts to my girl Austin for sending me this tripped out dub psych bomb. If there's a better song to make you feel really high without blazing a fat one, then I haven't heard it.