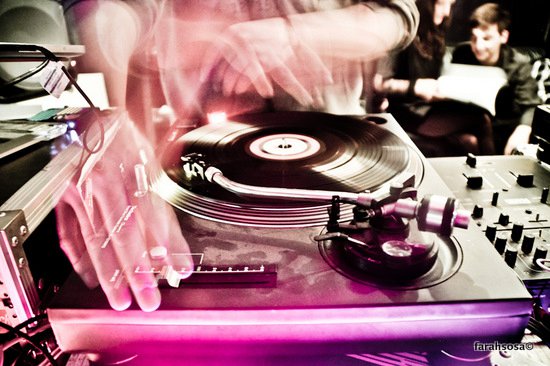 Happy holidaze to all! Hopefully you're able to spend a little extra time this week with fam and friends, enjoying good food & booze, and working on your dance moves rather than work itself. I'm gonna try to put together some form of "best of" list before the year is out, but in the meantime, here's some big tunes to help kick off your party and keep it going til the sun is up. I got heavy doses of inspiration last week thanks to the legendary DJ HARVEY (absolutely insane!), DJ Revolution (killing it), the Subsuelo crew (which includes my homie Farah Sosa whose pic is featured above) and DJ THC Electra who does all things debaucherous at the Alvarado House– lots of parties last week. Also, for anyone in the Bay Area, this is your official warning that I'll be dj-ing New Year's Eve with my blood-brother Murphy Lawless and my other brother from another mother Elegante (Soul Imperial massive) at this cool spot in San Francisco's Mission district named after the muppet band. There's no cover, which means no excuse not to be there.
Unicorn Kid : True Love Fantasy
I'm not a "raver", never have been, but this monster is too epic to be confined by swirling glow sticks or baby pacifiers. It does however make me want to find some MDMA.
Breakbot ft. Ruckazoid : Fantasy
French house funk pop awesomeness from this man.
The Rapture : How Deep Is Your Love (Sidechains 90's Rework)
a great song just got even better for the dancefloor, and we have Sidechains to thank.
Max Sedgley ft. Tor Cesay : Sound Boy (Kraak & Smaak Remix)
Godbless my dudes Kraak & Smaak for keeping the wah-wah pedal alive and well. Disco hip-house banger.
Siriusmo : Simple
My boy Tony turned me on to this dude recently and I'm now a big fan. Haven't had a chance to test this one on the floor yet, but I forsee very good things.
Chris Lake : Secrets In The Dark (Hector Couto Remix)
Good ole funky house music. Some things simply are.
Diesler : Buzzin'
Something tells me that I'd get along with Diesler quite well. The man clearly loves afrobeat horns and breakbeats as much as I do.
Martin Solveig : I'm A Good Man (Mousse T Breakbeat Mix)
a little something for the funk heads
Wahoo : Make Em Shake It
I used to have this 12″ and I played it til the groove wore down. Happy to have it on mp3 finally!
Beni : It's A Bubble (Round Table Knights Remix)
possibly as gay as "Is It All Over My Face", and that's half the beauty of it. Props to The Knights who keep killin it.
Ed Solo & Skool Of Thought : When I Was A Yout
stole this one from the Afrolicious bros. Classic reggae roots meet breaks and HEAVY electro synth bass.
Lana Del Rey : Blue Jeans (Penguin Prison Remix)
2 of 2011's hot names come together on this remix and it really works. I can't even front like I'm not crushin hard on Lana, and you already know I'm feelin the work of Mr. P.P.