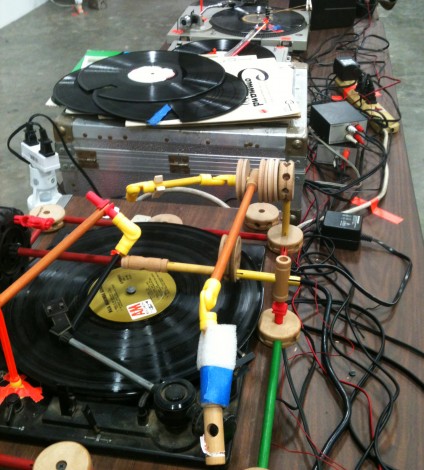 I stumbled into an art gallery downtown on Saturday, thinking it was a record store (I can always smell vinyl), and found this insane exhibit of discarded synthesizers and motion-sensor automated turntables. Turned out to be a group show for the LAFMS collective. There was also a wurlitzer covered in dildos, so obviously I recommend going to see it for yourself. This was after spending a couple hours at MOCA watching satanist art films by Kenneth Anger (with a church-going friend no less!). Then yesterday, coming down off the Superbowl, I watched a documentary about an Iranian Kurdish dervish sect who headbang themselves into a holy state of trance, and then proceed to hammer knives into their heads and cut themselves with swords. Yes, it's true. Lesson of the weekend: there's no end to what's out there. With all that in mind, I figured going back to some funky roots would be a good way to ground me for the week ahead.
p.s.- we passed 700 songs posted last week! Wow, MTR has been going strong for a full 3 years now. When we hit 1k songs there will be some kind of proper celebration…
The Undisputed Truth : Space Machine (Cosmic Boogie Edit)
paying tribute to our alien friends, Motown's most psychedelic act lays down a nasty guitar riff that leads us straight to the stars.
King Errisson : Disco Congo (Pat Les Stache's Re-edit)
just realized this awesome blog is now done! Pretty bummed 'cause Mr. Stache had been posting dancefloor gems for a long time, but he's moved on to jazzier pastures now.
The Doobie Brothers : Long Train Running
Why? Why not? I had forgotten about this bad boy for too long and was very happy to be reminded.
 Junior Bryon : Inch By Inch
It doesn't get more disco than this. Smoothed out rarity which I can't even remember how I came by.
Sarah Webster Fabio : Sweet Songs & Alchemy Of The Blues (Instrumental)
badass female counterpoint to Gil Scott-Heron (with a backing band that is possibly funkier). Can we please bring back the habit (as demonstrated here) of shouting out all the musicians astological signs? Good luck finding this one on vinyl…
Cyril Neville : Gossip
the youngest of the famous funky NOLA brothers. I found this 7″ in The Big Easy and have been meaning to post it for a while now.
Trevor Dandy : Is There Any Love
I think I first heard this as a sample on Kid Cudi's first mixtape. While I do actually like that song, this OG is waaaaay better.
Outlaw Blues Band : Deep Gully
one of my favorite Prince Paul approved breaks from De La Soul's Buhloon Mindstate. Remember when people would just rap on top of dope records? I do.
Ann-Margret : I Just Don't Understand
60's blues pop done right. Damn, this lady kinda had it all.
Barbara Mason : You Never Loved Me At All
Wow. This one's a stunner. Â If you don't feel something in the pit of your chest while this is playing, I would wager that you're heartless.
D.J. Rogers : Bail Out
Most people know this song from the more produced, and very Sly Stone influenced version by Maxayn. While I do love that one, this more stripped down version by the man who wrote it, has a raw bluesy-ness that is exactly what I need right now.