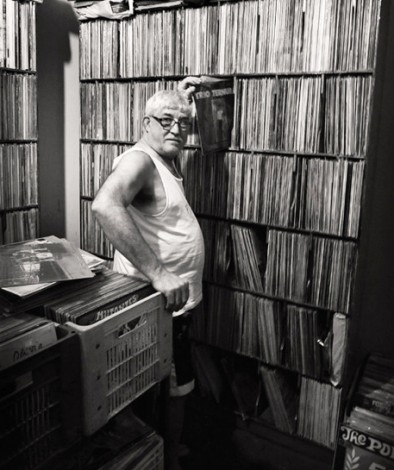 I'm in waaaay over my head with new music right now. I recently partook in a DJ power summit, which basically consisted of 12 steady-working LA deejays getting together for tea & crumpets & hard drive swapping. Yeah, it was a big sloppy music nerd orgy. Remixes flying all over the place, zip drives getting stuck in inappropriate usb ports. There was a lil bit of vinyl swappage, but mainly we were dealing with heavy ass gigabytes. This is good news for all of you out there who will be benefitting from this plethora of beats as well. And just in case you don't get your fix taken care of here, try making a stop over at this other blog I just found where they like old funky obscurities and good photos (I stole this one of the record man above from them).
Bag Raiders : So Demanding
felt it was pretty appropriate to start with these guys who make no qualms about their raiding abilities.
Tweet : Make Ur Move
somehow I missed this one by 10 years! Still sounding really fresh. The only question is, could she have picked a worse name? Misfortunate pre-twitter fiasco.
Bear Hands : Crime Pays
simple but effective. Whiney falsetto meets garage rock with an age old adage that we can all relate to (I illegally let you download music because I WANT YOUR MONEY!) Not quite.
Breakbot : Baby I'm Yours ft. Irfane
do songs get more perfect than this??? I don't believe so. There's something slightly strained in this guy's voice that just pulls me out of whatever place I was in, and puts me down on top of the world. If the song alone doesn't get you high, check the rad video
J Boogie's Dubtronic Science ft. The Pimps Of Joytime : Go To Work (Hot Toddy Remix)
long ass name, long ass song, deep muthafuggin groove. 7 and a half minutes of a bass loop, and I'm ready to rewind and do it all over again. The Pimps are my homies, and I'll let you in on a lil secret… I did an official remix for them that should be dropping soon, stay tuned.
Todd Terje : Inspector Norse
whoa!?! Can you say "cosmic"? This being played loudly in a warehouse at the brink of dawn sounds like a good idea to me. More from this awesome label here.
Azari & III : Manic
channeling Prince and Kraftwerk, this one's a dark dancefloor destroyer. They've got more.
The Temper Trap : Resurrection (Penguin Prison Remix)
I've been seeking out more stuff by PP since getting his great album a lil while back. This man has done a lot.
Priors : What You Need (Hey Champ Remix)
Hipster disco, yes. Sweater funk, yes. But that doesn't stop me from liking it.
Ornette : Crazy (Noze Remix)
GORGEOUS!!! You need this one in your life. Huge thanks to my homegirl Marlee for finding a piece of myself that I didn't know was missing. And huge thanks to Noze (wherever you are) for being brilliant.
Lovebirds : Want You In My Soul ft. Stee Downes
another slow builder, but when it finally drops, wow. There's actually a Hot Toddy remix of this one too, but I'm slightly partial to the OG.