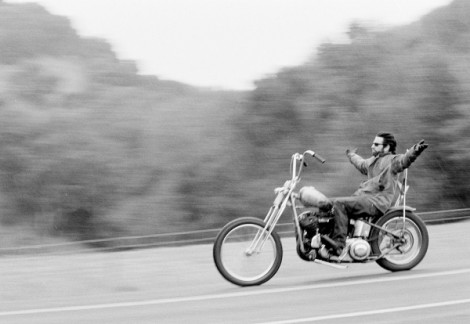 Etta James, Johnny Otis… more legends passing. If you're unfamiliar with the work that gave them that status, I suggest you visit my homie O-Dub's site to catch up. But right here I'm once again paying homage in my own way- new music to keep us feeling things more deeply, thinking more openly, and living more inspired. The image above comes courtesy of one of my new favorite blogs. If you see more vintage 60's and 70's biker/bikini/gangbanger/all-around-rebel pics creeping up on here, that's probably where they will be coming from.
Pretty Lights : Finally Moving
there's a few remixes of this one, but I like the simplicity of the OG with Etta James' voice sitting perfectly on top of that old Stax record sample (also used by Rappin 4-Tay on "Player's Club").
Bonobo : Stay The Same (ft. Andreya Triana) & 1009
This guy played at The Lift in downtown LA on Sat night and it was massive. That party just keeps getting better. Both of these are from his very solid latest release Black Sands.
KASTLE : Time Traveler & Bring Me Back
don't know too much about this dude, but these are some of the more creative & crispy bass tunes I've found in a while.
Cubic Zirconia : Night Or Day (ft. Bilal)
this is deep space nine in soundwave form. Also very appropriate for play during foreplay. Check em out.
Solomon : Love Recycled 2 (ft. Curtis Mayfield)
basically a Curtis remix, but I'm not mad at this guy one bit. Am I horny? Damn, what's with all this sexy ass music.
Javelin : Intervales Theme
just discovering these cats catalogue. Looks like there's a lot more where this gem came from.
Blundetto : Hercules (ft. Hugh Coltman)
Aaron Neville's classic gets a slinky reggae redux from the funky Frenchman Blundetto. Lookin forward to the next album.
Gotye : Somebody That I Used To Know (JR Blender Remix)
wow. JR Blender has been putting out a lot of great mashups over the years, but this one is just too good. Always loved this Aswad riddim.
Goapele : Undertow
If there's only one song on this playlist that you listen to and spread, I hope it's this one. When the kick drops, so do the panties. Sexiest thing I've heard since The Weeknd. Â "Play" is another winner on this album, and the remix by Los Rakas is not to be missed either. Too much good music. Or then again, never too much, never too much, never too much…