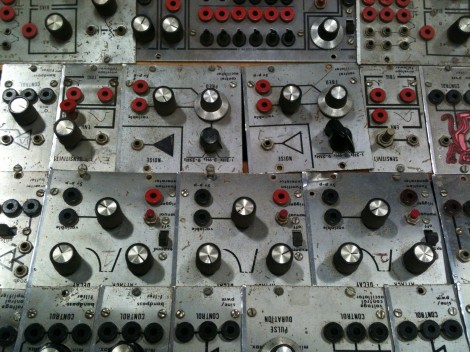 I think it's safe to say that 80-90% of my waking life is spent with music playing around me. I start every morning listening to new music with a cup of coffee in hand, searching for something to catch my ear. I spend most of my days working on making and mixing new songs. Most nights I'm out either DJ-ing or listening to DJ's (and trying to steal songs from them), unless of course I'm at a show with a live band playing. Somehow, it never gets boring. That's because of artists like these ones I'm sharing today, who keep hammering away at the weight of the past and manage to continually make something new (even when they recycle those retro elements we love). This website is my perpetual thank you to them. And here's a toast to my precious, hard-working eardrums as well, I know they deserve a vacation…
Xenia Rubinos : Hair Receding & Pan Y Cafe
This chick is a revelation! Badass, Brooklyn-bred, alternate-time-signature, Latin punk music. Watching the extremely fun video for Pan Y Cafe made me miss NYC like crazy. It also made me want to make music videos with fisheye lenses all-day, everyday (while listening to music of course).
Phenomenal Handclap Band : The Right One
More NYC greatness (there may be a strong trend in today's playlist). I've been waiting for something fresh from these guys and they did not disappoint with this latest offering- again, accompanied by an amazing and very trippy video.
Escort : All Through The Night
Yup, it's more Brooklyn. Escort is sounding tighter than skinny jeans on this funky neo-disco bomb.
AVAN LAVA : It's Never Over
Take a guess… was it BROOKLYN?!? If so, you're right. Super poppy, but so damn good I can't deny it.
Flight Facilities : Crave You ft. Giselle (Cassian Remix) & Feelin (Johnny Pow! Mix)
Ok, switching things up, let's give some love to Australia. That marimba sound on Feelin is exactly what I need right now.
Crazy P : Open For Service & Changes
They clearly these Brits were advised to tone down their public image a bit, but they will remain Crazy Penis to me. Check out their new album.
Shake Aletti : Lights & Sparks
More 80's throwback freshness from the UK. This song also has a video that may make you want to go out dancing.
Madi Diaz : Trust Fall (Jensen Sportag Remix)
Retro r&b smoothness that would undoubtedly have Hall & Oats nodding their heads in admiration.
Inc. : Swear
Ok, I know it seems like we're entering a time warp with all these throwback sounds, but don't you wish Prince was still making shit like this? I'm happy these guys are filling the void.
Chet Faker : No Diggity
This buttery cover song was my introduction to Chet Faker, but clearly I've been sleeping on him, cause there's a lot more where this came from.