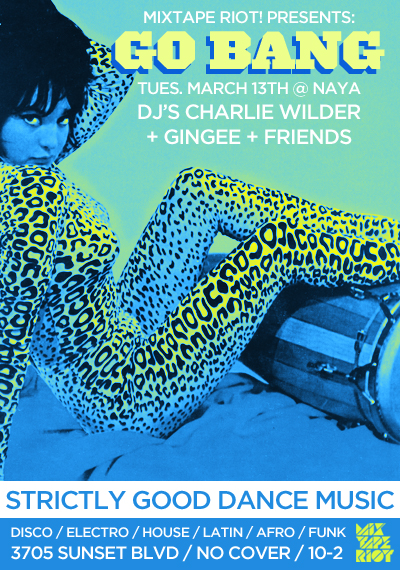 It just keeps on coming, and keeps on coming, and keeps on coming… But I'm not showing any signs of being bored. Come out to this party tonite and I promise you won't be bored either. I'll be joined by badass DJ Gingee and the lovely hostess Mor Elian (who I stole a lot of today's tunes from). Some heavy global sounds will get played, but also plenty of house and disco and beats from beyond. Basically, anything goes (in case you couldn't tell from my playlists here), so expect the unexpected.
Congopunq : Red Car Go , & Whirl & Sweat
somehow this record came out years ago and I'm just now hearing about it. Distorted thumb pianos, custom built instruments and loop pedals = a few of my favorite things. Â It also appears as though these guys put on a crazy live show.
Bjorn Torske : Langt Fra Afrika (Todd Terje Remix)
this is my new favorite dance song. No contest. I don't know what kind of drum/synth he drops at the 3min mark, but I'm in love. And then the horns that don't come in until 5mins in? This song just keeps getting better and better. TT is my hero right now.
King Coya : Villa Donde
slow burner from a new alias of Argentine Gaby Kerpel– whose album Carnabalito I used to play on my radio show Passport back in the day.
LOL Boys : Aisle Seat
strangely infectious tropical electronic fusion beats from these LA/Montreal dudes. I like how there's one lone sample reveal, and then it's right back into the cumbia-ton madness
TrezUnidoz : Melhor Amigo
pretty hard electro baile kuduro bizniz here from this producer in Germany.
Botnek : Panama Bass
listening to this track instantly puts a raucous carnival parade in my head. Nice work Botnek.
Buraka Som Sistema : Candonga & Hypnotized
listening to this album, it's clear to see why Buraka are still one of the biggest names in global bass.
Daniel Klauser : Rootz
simple but highly effective Chilean pan-flute banger from this guy.
A Tribe Called Red : Look At This & Electric Pow Wow Drum
YES!!! It was only a matter of time before roots-tronica made it's way to the reservation, and with the recent onslaught of mind-melting tracks from A Tribe Called Red, it's clear that the time is now.