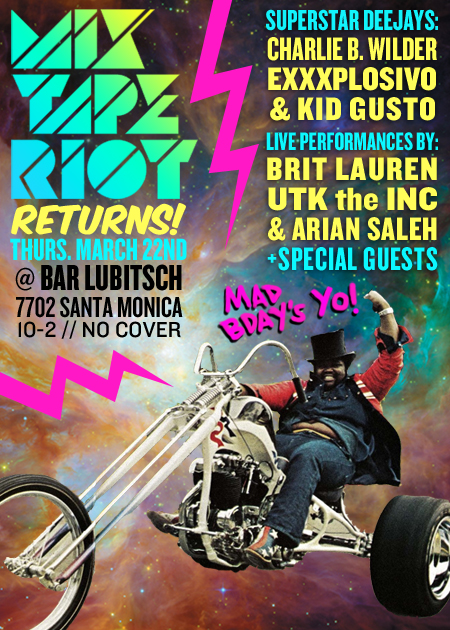 We're BAAAACK! Been too long since MTR put it's foot down and threw a proper rager. Me turning the dirty 30 this week (holy shit I'm gettin up there!)Â is definitely reason enough to make it happen. For whatever astrological reason, I have an abnormally large number of close friends who are pisces/aries cusp as well- so we'll all be celebrating getting older and living younger together! If you're in or around LA, do yourself a favor and come join the bash. Good times will be had, good music will be played, good drink will be drunk, and inappropriate dancing will most definitely be the soup du jour. Here's a bunch of songs I'm feelin right now so those of you who can't make it can at least participate in spirit.
Elle Varner ft. J. Cole : Only Wanna Give It To You
always glad to hear some 90's flavor coming from major label artists. If only the radio could start sounding a little more like this…
AlunaGeorge : You Know You Like It
head nod on blast. Can't say I'm the biggest fan of her voice on some of the other songs I've heard from these two, but they really nailed it on this one.
DJ Mehdi : Lucky Boy (Outlines Remix)
it's always a good time to play some  Mehdi music (R.I.P.)
The Ting Tings : Soul Killing & Hang It Up (Shook Remix)
bed-squeek ska skank for the WIN! So glad this group isn't scared to play around with different styles. Why do most bands feel like every song they put out has to sound similar to the last one? And this 70's synth-disco remix by Shook is more of what the doctor ordered.
Mux Mool : Hypercolor ADD
ok beat dude who likes skulls, didn't expect this little slinky funk number from you, but I'm real glad that it happened.
Zaki Ibrahim : Something In The Water
sick new sounds produced by the currently-Canadian homie DJ Catalist. Great middle ground between heavier dubstep sounds, UK funky riddims, and moody spaced out R&B. Looking forward to more from Zaki.
Brenmar : Taking It Down
slept on this dudes music for too long, then saw him DJ at a crazy afterhours party a couple weeks back and now I'm getting familiar with his catalogue. "Club music for now"- simple as that.
Rogiérs : Home (Opolopo Remix)
smoothed out late night funk. Opolopo seems to be getting better and better with each new release I hear. Here's a cool video of the man at work.
Mayer Hawthorne : Henny & Gingerale
this was one of those weird bonus tracks that only came on certain editions of his last album- namely NOT on the edition I got. Glad to have it now though, total throwback to Marvin Gaye's "Give It Up (pt. 2)"
Adrian Younge : It's Me (ft. Rebecca Jordan) & Turn Down The Sound
pretend it's your bday and go get this whole album. The genius behind the Black Dynamite soundtrack has now recorded the illest psych-soul soundtrack to a B-movie that never was.