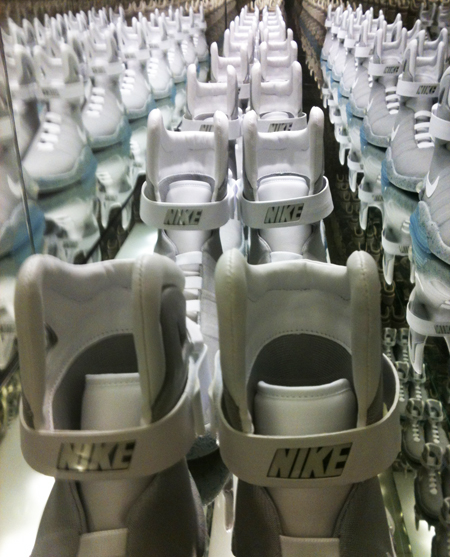 I can't tell you where I took the above photo (secret Nike underground lair), but just know that it exists, and yes, they have a hoverboard skate park too. Unfortunately, I didn't get to walk away with a pair of the holy grail Michael J. Fox's, but merely being in the presence of this legendary fabled footwear was gratifying enough. And now, back to the future, where all the kids like me who grew up on Parts I, II, and III, are making the appropriate soundtrack to tomorrow, today.
Hot Chip : Night And Day
This bassline is disco genius. Damn I love these guys, really looking forward to hearing the new album they're working on.
Friendly Fires : Hurting (Tensnake Remix)
Another excellent usage of electro-marimba by this guy
Santigold : Disparate Youth (The 2 Bears Remix)
I still like the OG version better (and the whole album is knockout), but this dark n funky remix will definitely work on a dancefloor during the witching hour.
Pheonix : Armistice (RAC Remix)
pretty similar in sound and vibe to their big hipster anthem, but I'm not really mad at that.
Ben Westbeech : Same Thing
most of the material on Mr. Westbeech's new album is a lil soft for my taste, but this one has the right amount of Justin Timberlake steez that's hard to come by these days.
Mark Foster, A-Trak & Kimbra : Warrior
I'd like to be super suspect of a non-music brand putting out music, but Converse seems to be doing it right. I still play that Santigold / N.E.R.D. collabo track every once in a while.
Ancient Astronauts : Oblivion (Maker Remix Instrumental)
Gritty breakbeat goodness with little hints of old school Bollywood in the mix. Nice work Astronauts!
Phantogram : When I'm Small &  Turn It Off
I've been really sleeping on this group. I like them a lot. I wanna see what they do live.
Purity Ring : Lofticries
In need of a trip inside your mind? Perhaps they can help.
Major Lazer : Get Free (ft. Amber of Dirty Projectors)
WOW. Favorite song this week. SO. ILL. Damn.