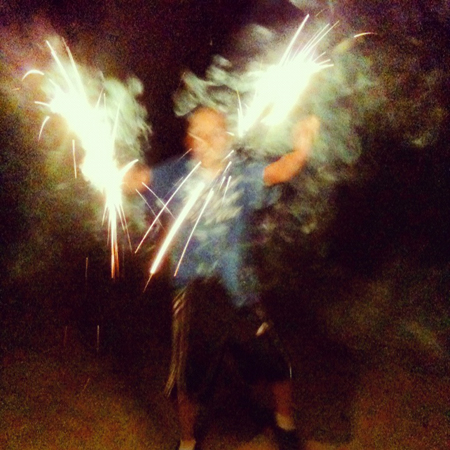 Spent the past week in the woods on the farm where I was born. Daily activities consisted of picking wild berries, swimming in ponds, jumping into waterfalls, foraging greens from the garden, bending downward dogs, scraping honeycomb from the hive, gathering eggs from the chickens, and taking plenty of time to star gaze. Sounds like an unlikely place for a dance party, but if you know my family and friends then you can picture the nightly boogie fest that goes down whenever I'm around. Hopefully today's selections will help you get a lil taste of that paradise.
Change : A Lover's Holiday & Paradise
heavy rotation selections from the legendary Larry Levan
I Level : Give Me (12
nice lil boogie gem that you may recall from a certain Tribe of yore
Capital Cities : Kangaroo Court
this has definitely grown on me. Lookin forward to hearing more from these local LA guys.
Breakbot ft. Irfane : One Out Of Two (Oliver Remix)
the new Breakbot single gets a very Quincy Jones-esqe treatment here and I ain't mad about it.
Kraak & Smaak : This Feeling
another monster from this crew. This whole mix/record is a great listen. Seems so long ago when I was opening for these guys on their first US tour
Miguel Migs ft. Evelyn "Champagne" King : Everybody
yes, it's that Evelyn. Props to Mr. Migs for pulling together a very interesting cast on this recent release and digging back into his disco roots.
Gorillaz ft. Little Dragon : Empire Ants (Miami Horror Remix)
totally missed this one when it came out. Friends don't let friends sleep on songs this good.
Jazzanova ft. Phonte : Look What You're Doin' To Me (MCDE Remix)
another one I slept on far too long. Interesting to see all the different projects Phonte has gotten involved with. Still love this record.
Tom Noble : Dancing Hard (Al Kent Remix)
you're gonna wanna get out your roller skates if you haven't already.
Cassian : Fuck Song
it is exactly what it claims to be. Nice horn sample from Tom Brown that was driving me mad before a friend helped me place it.
Foals : Miami (Jono Ma & Franklin Furter Remix)
ok already, I know I'm slow sometimes, but this needs to be shared too. Check the band in case you're slow like me.