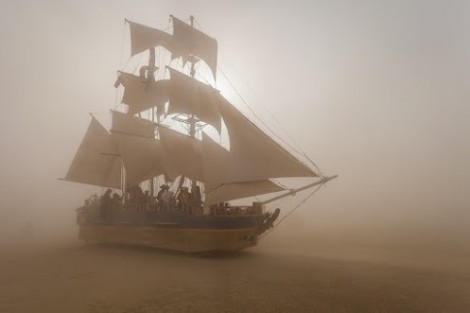 I don't really know where to begin in relaying any type of accurate account of the past two weeks. My friends had tried to warn and prepare me, but how do you get ready to visit an entirely alternate world? I'll have to sit with my thoughts and experiences for a while longer before I can make any real sense of what it was. The enormity of the city (yes, it's a fully functioning metropolis) was so great that even after constant exploration, I saw maybe 1/3 of it while I was there. Music (especially BASS) was constant- from all angles, at every hour, loud as hell. While I was somewhat correct in my fear of too much dubstep (and trance), I managed to find plenty of alternatives. I'm already scheming how to bring my own soundsystem out there next year so that the presence of good music will not be an issue. The whole experience was so much bigger than the music or a festival. At it's core, what I took away, and what I'm already missing, was an overwhelming sense of pure freedom and expression. I feel extremely grateful to have access to that. Sorry, hippie rant over.
In other news… I was very sad to hear about the loss of DJ Matthew Africa. His Soul Boulders mixes were staple listening for me. O-Dub has written some really nice things about him.
Also, for anyone in the LA area, tomorrow night I'll be kicking off my new Saturday residency at the Virgil alongside my homie and mixmaster comrade Canyon Cody. Come out ready to sweat, cause it's a dance party!
Pretty Lights : Fill Your Eyes , High School Art Class , & Double Love
this dude is the un-official soundtrack of Burning Man. Aside from a couple cuts I hadn't been that crazy about his music, but now I see where it comes from and how it fits in, so I guess I've been converted.
Hot Chip : Look At Where We Are Now (Major Lazer vs Junior Blender Remix) & How Do You Do (Todd Terje Remix)
as if these guys weren't good enough already, they went and got remixed by some of the best
Maddslinky : Special ft. Omar (Simbad 4x4 Remix)
great dub version of this tune as well. Shouts to Garth Trinidad for turning me on to it
Little Dragon : Sunshine
they can do no wrong
Midnight Magic : Same Way
nice mid-tempo space disco jam perfect for lazy afternoon beer drinking
Robin Hannibal : Sneak Preview
somehow I slept on this gem from the guru of smooth
Hiatus Kaiyote : Nakamarra & The World It Softly Lulls
great soul jazz & future beat album from these Aussies.
Mishal Moore & DJ Fonti Project : Let's Roll
don't know how I got this, but I dig the minimalism meets 808's
AlunaGeorge : Your Drums
another hit from these young Brits. Very much lookin forward to more
Young Wonder : Orange
great mix of electronic styles on this heavy head nodder
Anthony Valadez : Sunny Spot & Walking Away ft. Damon Aaron
taken from a very nice and surprisingly mellow album by this LA DJ who I've seen rock parties on several occaisions