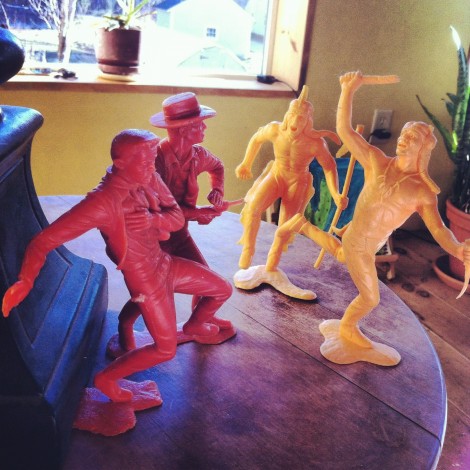 These old guys have seen a lot of fights in their time. Rediscovered while back at my pop's farm, the place I was born, deeeep in the woods- I'll let them go back into retirement after this one last bout. Here on a farm, warming up by the woodstove, may seem an unlikely place to be listening to house music and tribal beats, but somehow this playlist is working for me. Hopefully you'll find your way to good food, friends and family this week as well, and if not, at least find plenty to be thankful for.
Tensnake : Mainline ft. Syron
C+C just came back from never being dead! I'm really not mad at Tensnake for this at all.
Moon Boots : Got Somebody
and now it's Wayne Wonder getting the defibrillator treatment?!? Nice work Moon Boots.
Chordashian : Call Me (Chordashian's Night Out Mix)
serious deep synth work from these fellas. Lookin forward to more from them.
Solo ft. Deepshakerz : Alki Bamba
Not entirely sure who Solo is, but I have other songs from him that I like, and here's his label.
Liapin : Redskin
super simple. highly effective. drums and atmosphere.
Matanza : Tiembla & Las Indias
SO SICK. You guys out there that like good music need to keep lookin out for more from Matanza. I'm going to bring them to the US, mark my words!  In the meantime, get their full album for FREE
Chris Malinchak : So Good To Me
so good, so deep… if this doesn't pull at your heartstrings then you need to get 'em re-strung! I don't know who this dude is, but he's killin it. Is that a Luther Vandross sample or what? Don't ask me how he did it.
Kody Leftwing : I Need You
more British house, sorry can't stop. They seem to be hitting this nice pocket of distilled 90's club meets moody minimal dubby late night funk.  Apparently I need to make more trips to London. Cheers Mr. Leftwing.
Nod One's Head : UP
for a lil something different, check these kids from Berlin who are dubbing out the minimal almost to the point of Arthur Russell spaciness.
Arthur Russell : How We Walk On The Moon (Youth Return To Base Edit)
speaking of Mr. Russell, who I love dearly, let's go with this extremely tasteful touch-up from the Youthful one.