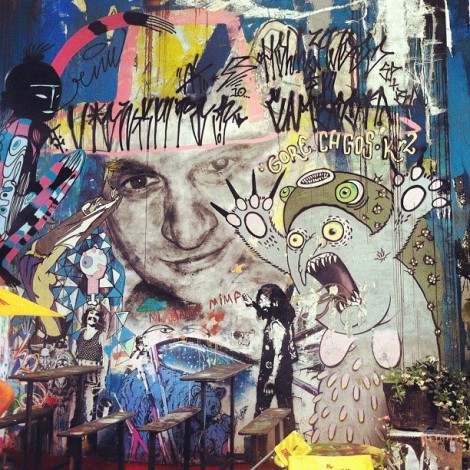 New bass for your face. Some Moombah, lil bit of Latin, touch of Balkan, and some heavy African joints. My Subsuelo homies are kicking off a new party this Friday at El Cid where music like this will be the  modus operandi. LA heads should come through. Shoutout to my dude Koury Angelo for the fresh pic which was taken at a bar somewhere in S. America I believe.
Pernett : Rumba Bacana (Nickodemus Remix) my man Nicko comes correct once again on this solid mid-tempo latin breakbeat partystarter.
Carlos Barbosa & Blasterjaxx : Toca Flute (Sabo Remix) fellow NYC to LA transplant and moombah godfather, Sabo, made this Andean flute bomb even more devastating.
Orión & King Louie : Tin Tin (Peligrosa Remix) speakin of Sabo, here's another great moomba track from a recent EP on his Sol Selectas label
Miguel Migs ft. Capelton :  The System (Fellow vs. Jillionaire Remix) conscious dancehall meets heavy global bass on this rework from the richest man in babylon
Fuse : Antenna hotter than lava Azonto Afro pop from Ghana. Shouts to my girl Azza for the heads up on this one. Hopefully this joint will continue to inspire more public dancing.
CongopunQ, Papy Mbavu & Flamme Kapaya :  Danse du Charlot Scié LOVE this track, which I discovered on the soundtrack to Viva Riva. Watch it, be amazed, then get the full soundtrack of Congolese gems.
Radioclit :  Secousse All Stars more fire from the Riva soundtrack from a pretty familiar face in the global bass scene.
ShazaLaKazoo & Chernobyl :  Zica Memo Feat. Suppa Fla (Gregor Salto Remix) Balkan heater from another of the biggest names in global club music.
Yankee Zulu & Worthy :  Concumbia (Original Mix) never heard of these guys, but this one is seriously infectious. Shouts to DJ Gozar for the heads up.
Boogaloo :  It's Not OK But Alright new one from Boogaloo, if you weren't already, get familiar.