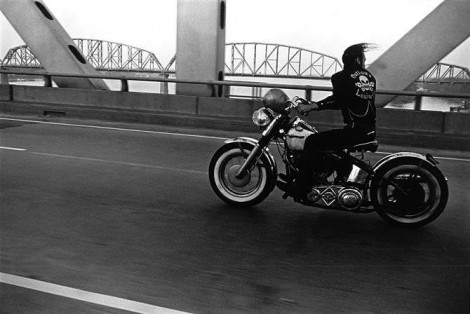 The end of an era at least. Quetzalcoatl is returning, ya know, nothing too major. I'm gladly going to be down in Mayan turf (Lake Atitlan, Guatemala) for the solstice, which I'm very excited about. Rather than thinking of it as an apocalypse, I prefer picturing it as the dawn of a higher consciousness- perhaps presenting us with the emergence of a newly evolved funk. Then again, maybe I'm getting my hopes up too high. Some nice selections today that keep me daydreaming more than I probably should. And the pic above comes from the legendary Danny Lyon who has a great retrospective show up now at the De Young museum in SF which I checked out while I was in the Bay last week.
Superhuman Happiness : See Me On My Way
rad coming together of musicians from Antibalas, Phenomenal Handclap Band, TV on the Radio and more… This song indeed makes me superhappy and I'm definitely lookin forward wo more from this gang.
Boyz Noize : What You Want (Chromeo Remix)
bout time I had something new from Chromeo. All the right elements are here: vocoder, 80's synths, disco bass, boogie guitar chops and some simple heartfelt whiteboy vocals.
Steve Bug : Moment Of Ease ft. Emilie Chick
nice bouncy pop joint with a touch of jazz from Mr. Bug.
Andrew Ashong : Take It Slow
yessssss. Even if you're the type of person who rarely is willing to drop $12 on a 12″, this one is worth it!
Tiger & Woods : Curb My Heart ft. 'EM
nu-80's boogie ish from this mysterious disco duo
Canyons : Tonight & See Blind Through (Mic Newman Remix)
pretty late on discovering these guys, but I'm real glad I did. Slightly experimental indy-rock with some solid disco and electronic moments.
Lane 8 : For You
haws muzzik (gotta say it with a German accent to sound correct). Loving the classic smooth late-night sound that this producer has been consistently putting out.
Letherette : Warstones & Surface
funky fresh beats and head trip shit taken from this great EP.
Lapalux : The Hours
heavily compressed head nod business from this Brainfeeder crew member.
Flight Facilities : Claire de Lune
really cool to hear something so atmospheric and chilled out from these funky Aussies.