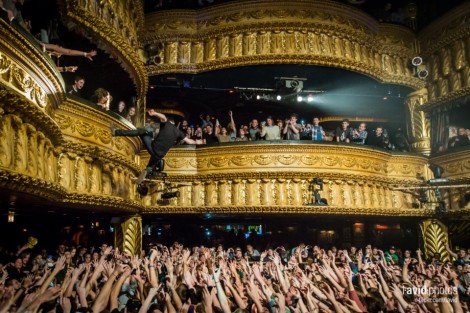 Now I don't normally do this, but uh, it's Friday and hearing the insanely ballistic new collabo banger from Baauer & Just Blaze inspired me to pull out some of the heavy hitters I've been sitting on for a while now. Just when you thought you knew the limitations of crunk, somebody with an 808 and a keyboard comes along and gets even stupider with it. Truth be told, I can't listen to too much of this stuff at a time, but the cream of the crop, in limited doses, does a body good. Also, next week I'll be playing at the massive Subsuelo vs. Mad Decent Grammy jammy, so I gotta prepare for the hardest of bass heads. Stagedive from the balcony comes courtesy of Macklemore (not on today's playlist, but props to him for going platinum no label!) and the photo was captured expertly by Lavid (before I jacked it from a FB stream). Without further ado, it's headbang time.
Just Blaze & Baauer : Higher
TRAP TRAP TRAP
Baauer : Yaow!
THUMB PIANO TRAP
Wayne Marshall ft. Damian Marley, Aidonia, Bounty Killer, I Octane & Vybz Kartel : Go Hard
WHAAAT?!? Insane posse cut from dancehall's finest
Clicks & Whistles : Can't Believe & Relief
harder than bricks make you bounce type shiiiiit. More from these Cackalackians.
Purity Ring : Ungirthed
this still counts as HARD!
Big Boi : Lines (ft. A$AP Rocky & Phantogram) & Apple Of My Eye
I can't say his whole new album is entirely listenable throughout, but I applaud the ambitious collection of hipster and hip hop collabos, and there's a few songs like these that really do work for me.
Mike B. : Dreaming Out Loud ft. Breezy Lovejoy
underground Los Angeles rap that came into my inbox and I'm actually really feelin it. Check the rest of the album here.
Yuna : Live Your Life (Melo-X Remix)
Melo-X, Joey Bada$$, & CJ Fly : Live From East Flatbush
my dude Melo is staying super busy these days. The Yuna remix gets bananas DnB steez at the end, and this little freestyle session is one of the rawest, most Brooklyn songs I've heard in a minute
St. Lucia : Closer Than This (Xaphoon Jones Remix)
ok, so this one is definitely not hard, but I like how some of the same electronic sounds are mixing into this smoother style. More Xaphoon.