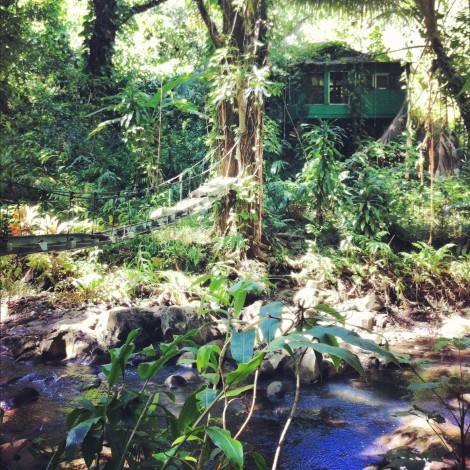 Still feeling the effects of my week & a half Hawaiian excursion- namely that I'm moving at half speed and nothing seems to bother me even the slightest bit. AKA Wavy. I need to give a HUGE shoutout to my incomparable hosts in Maui- DJ Nadi & the illustrious Karen Be– who fed me the crippest most chronic of foods & beverages (whatchoo know about Habanero juice?!?), showed me the most mindblowingly gorgeous hideaways (jungle shack in the pic above might be my next home), and helped throw some sick music gatherings while I was there. The fact that we connected through the internet, and this site in particular, is proof that all the work I put into this blog does indeed pay off tenfold. Today's selections are about as mellow as they get on here, so if you're not in the mood to drop it into first gear, then this playlist ain't for you. Also, thank Nadi (whose iTunes I raided) for about half of these tracks…
KarenBe : Coconut Water & Shades Of Delight be sure to check out more sounds from this badass chica, and definitely expect a collabo with yours truly in the near future.
French Kiwi Juice : Lying Together simple groovy mid-tempo joint from this funky Frenchman
Nicolas Jaar : And I Say (Xinobi Edit) light touch edit from this guy, makes the track just a touch easier to bounce to
Nice To Touch : Asagaya don't know anything about this Aussie, but this one fits the bill perfectly
Dandy Teru ft. Sarah Gessler & Ty : Fragile Things whole new album just dropped from Teru, check it out here
Darondo ft. Tall Black Guy :
I Don't Want To Leave (Sure Know How To Love Me Re-Edit) this is one of those beats you just don't want to stop. The latest delivery of heat from TBG
Kodak To Graph : Sequatchie Eve I love how alive this production sounds. Petri dish beats. Here's the dude responsible.
DJ iZem : Belén (ft. Yolanda Reyes) bubbly slow-mo funk from this Portugese producer
Michael Kiwanuka : I'll Get Along (DJ iZem Bootleg Remix)
more iZem… feelin the little Beatles sample tucked in there
Lulacruza : Canta (Gaby Kerpel Groove Milonga Remix) & Rio Contento Amazonian songbird. Check her out.
Robert Raimon Roy : Axela finally, a seriously sexy tune from the man formerly known as Rob Roy (who I did a couple shows with way back)