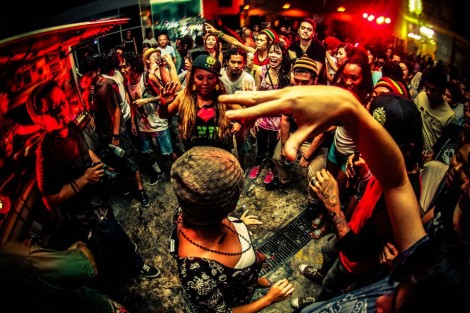 Wow, this little Asia tour has finally come to a glorious end. I'm layover blogging at you from the Singapore airport, reminiscing on all the events that filled the past two weeks to the brim, making them feel more like two months. Last night was the über cherry on top. If you ever find yourself in Manila, Philippines, then don't be a sucka and make sure you plan for a trip to Irie Sunday at B-Side. Easily one of the top 10 parties I've played at, and apparently it pops off like that every week. More pics of the insanity here (courtesy B-Side) and here (courtesy Brendan Goco). It's a rare treat that I get to play an all reggae set, but as you can imagine, I had to push the boundaries a lickle bit. Some of these tunes here definitely got dropped, press play and keep spreading the vibes. HUGE shout to all my new homies who helped make the tour happen, made the parties pop off proper, and showed me the bomb places to eat: Andre, Eddie, Stefan, Sam, Kilowatt Sound, Dee Jae, Omar, Marcus, PJ, Artstrong… I SEE YOU!
Shabba Ranks & Michael Rose vs Dreadsquad :  Shine Eye Gyal (Da Vibz Remaker Mash-Up) heaaaaavy!
Mr. Vegas : Mus Come A Road modern day classic
Skarra Mucci :  Movie Star (ft. Delroy Wilson) updated old-school classic
Dirty Dubsters :  Girls Pon Mi Mind (ft. Top Cat) something for the steppers
Charly Black & J Capri : Whine & Kotch specifically designed for dutty wine
Kess : My Love ok, kinda cheesy, but I love it anyway
Major Lazer : 
@https://mixtaperiot.com/wp/wp-content/media/WatchOutForThis.mp3″ volslider="n" flow="y" ind="y"]that new new electro-moombah-dancehall bizniz.
77klash & Jahdan Blakkamoore : Brooklyn Anthem (Marcus Visionary Remix) for the city where my heart still lives
Stepart :  Rainy City Blues (feat. Pupajim) from a French crew that keeps on killin it, but needs to get better mastering
Busy Signal : Cool Baby (Poirier Remix) simple additional drums on this one make it that much more devastating