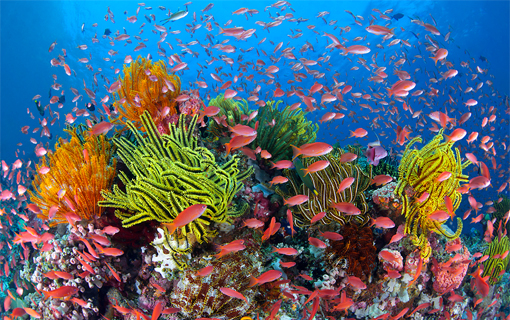 I'm currently feelin a strong itch to get away. Actually more like full blown poison ivy attack mixed with hives. That's the kind of all-over full body itch I'm talking about. Maybe it's partly due to the anticipation of travel that is hopefully (fingers crossed) in my near future. I try not to jinx anything until I have my ticket in hand. I've been working steadily on a ton of new music which will surely leak its way onto this site over the next several months, and potentially, I'll be typing about it from someplace as pretty as the underwater world above. For now though, press play on this big selection of outernational sounds that can help you mentally reposition yourself closer to the equator (unless you're reading this in Ecuador). I've got a touch of Jamaica, Colombia, Brazil, Cambodia and West Africa in the mix, plus some other goodies that should get you moving.
Tarrus Riley : Burning Desire
one of the finest reggae roots singers doing it today
El Búho : Pescado Negro
deep and trippy future cumbia vibes from this cat
Castro : Twitch (ft. Branko & Poté)
big collabo zouk bass tune from this UK producer
Joyce Moreno : Aldeia De Ogum (Psychemagik Remix)
the Psyche dudes hit home once again- trippy, breezy, and just enough bounce
Afriquoi : Kudaushe
african future roots outta London
Tony Quattro : Zulu Carnival
heavy big room tune from this NYC dj for Branko's Enchufada label.
Davido : Skelewu
smash hit from Nigeria's current mega-dude that I slept on for way too long
2face Idibia : GO ft. Machel Montano
another big name in the Naija scene featuring the undisputed Trini carnival king
Mc Jaja : Eu Quero é Tu
I hear from Chief Boima this one is making major waves throughout Brazil and I can hear why
Staff Benda Bilili : Osali Mabe
feel good modern roots music from the Congo
Vieux Gazeur : Mon Pépé
some drum-heavy zouglou bizniz from Cote D'Ivoire designed specifically to move your rump
Bulimundo : Santo Antoni la Belem (Hide & Smile Edit)
moving onward to the funky side of Cape Verde, comes this excellent edit from the Sofrito crew
Shawn Lee's Ping Pong Orchestra : Ghost In The Rain (ft. Clutchy Hopkins & Chhom Nimol)
leaving you with a moody psychedelic slow jam featuring the Cambodian songstress front-woman from Dengue Fever. Would love to collabo with her one day…