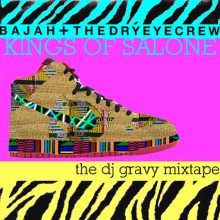 My sincere apologies for posting this later than I had initially intended because I first found it a few weeks ago in promotion for a couple NYC shows, which, after giving this a listen, I'm sure were extremely hyped affairs.  Bajah + The Dry Eye Crew hail from Sierra Leone and kind of remind me of Daara J or a West African T.O.K. with the high to low vocal range and killing it equally as hard with the one drop riddims and dancehall elements, while also fusing some boom baps and electro grooves to create a pretty unique dance floor vibe- I mean, these guys go from 140BPM all the way to chopped and screwed!  Their sound has caught the ear of hip hoppers like ?uestlove and Black Thought of the Roots, Talib Kweli, and K'naan, who are all slated to make appearances on their debut album due some time this fall, while the production is helmed by the Fyre Department, made up by the talented Adam Deitch and Eric Krasno of Soulive, meaning that these guys have some serious heavyweights in their corner.
Bajah + The Dry Eye Crew are already massive in their home country and throughout Western Africa where they are hailed as "the voice of the voiceless," speaking out against the various political and social injustices that are prevalent throughout their area.  In regards to the overwhelming support they get back home, one of the members A-Klazz (amazing name) says, "When we have a show in the national stadium, you see these guys making a long line, taking off their T shirts and laying them on the floor so we can walk on it as a mat to go on to the stage…yeah, red carpet…a lot of love, man. For real"
It's nice to get behind some dope music with a real message, so be sure to support these folks and cop the album when it drops, but in the meantime bump the mixtape at your next BBQ and remember to enjoy all that you got.
For more info and full mixtape download check out-Â  http://planetbajah.com/
Bajah + The Dry Eye Crew- Laba Laba
Bajah + The Dry Eye Crew- Bondo Kallay
Bajah + The Dry Eye Crew- Continue reading…