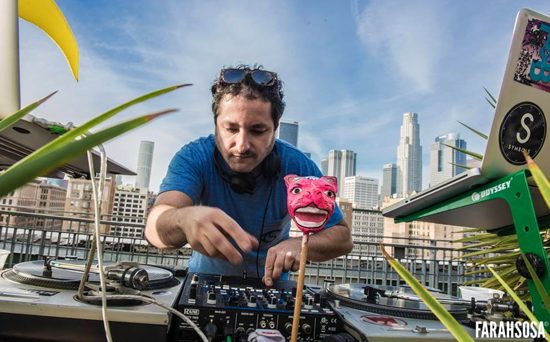 Loooong overdue, but well worth the wait. Finally got my good friend Josh aka DJ Gozar to put together a guest playlist for MTR! When I first moved to LA, Gozar (who I had never met) invited me to play at a warehouse party called Tropicali with another DJ friend Kid Gusto. He had just come back from Colombia and I was drooling over his dusty vinyl digs. A great crowd turned out, and we were recently joking that so many of the heads who showed up that night, have now become core members of our LA global bass community. A founding member of Subsuelo, a guy who can fix any tech concern this side of N.A.S.A., a perpetual good pupusa seeker, and a man I'm glad to call my homie. You can catch Gozar, along with Canyon Cody, Jose Marquez, Sabo, Jeremy Sole and more next weekend at the very dope looking Woogie Weekend festival here in SoCal. On to the tunes…
Adam Port : E Sound Edit
Light, Percussive, Airy and Dubby. House loveliness from this dude. I first heard this track standing in the ocean at the Genius Loci Festival.
Bomba Estereo : Raiz Captain Planet already posted the bangers off this album. This is my sleeper pick though. So Lovely. Cop the album here
Chancha Via Circuito : Jardines ft Lido Pimienta (Thornato Remix) Chancha and Thornato on the same track. Live guitars from Ron Bunker of Balkan Beat Box. No more needs to be said.
Cristian Vinci : Tambor y Plena Percussive Latin house banger with horns to spare from this producer. Cop it here
débruit : Percute & Transverse As soon as I saw that this dude had a new album, I grabbed it off Bandcamp. Spacey bassy African roots sounds not to be missed.
Mateo Senolia : Baldwin (Yoruba Soul Mix)
Deep Afro-House rhythm under searing 1963 James Baldwin speech, remixed by Yoruba Soul. "The poets (by which I mean all artists) are finally the only people who know the truth about us. Soldiers don't. Priests don't. Union leaders don't. Only poets."
Nicola Cruz : Colibria Space roots from this Ecuadorean master on ZZK Records, whose music "is an exploration of folkloric traditions and ancestral mythologies in a modern setting". Love the vocals from Huiara on this. Support them!
Novalima : Beto Kele (Nosotros Somos) & Madretierra Two awesome tunes from the super-solid new release from this Peruvian group on Wonderwheel. LA heads, check them out at The Skirball Aug 27th too.
Owiny Sigoma Band : Luo Land Afro fire. From their soundcloud: "Louis Hackett, the band's bass player, produced this hypnotic response after a 12 hour changaa fueled session of hard Nyatiti soundclash." Check it out here
Purple Disco Machine : Magic Loving this house tune. Samples liberally from a song that a lot of you will recognize.
Tommy McCook & The Supersonics : Reggae Merengue (Cocotaxi Cumbia Edit) Light edit of this classic tune from the Jamaican Sax master
Weird Together : No Compromise (Daniel Haaksman Remix) Big Haaksman remix of this song from the British group.
Vivian Garcia & Armando Perez : Locos (Atropolis Remix) Damn catchy female vocals en español over a  raggamuffin beat from the NYC homie Atropolis