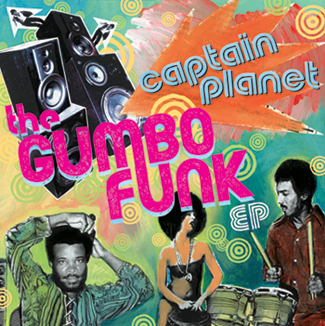 Waddup Captain's Crate readers-
It's Ant from News & Booze letting you all know that Charlie's mellowing out in the Dominican Republic for a week camping on a beach far, far away from any sort of tekmology. He'll be back on Monday dropping regularly scheduled jewels, but for now, I'm getting the hype machine all generated for the release of the upcoming Gumbo Funk EP, Captain Planet's solo debut.
6 tracks deep, todas las producciones originales, the project gets the Via seal of approval like whoa. I'm not going to front like I even know the first thing about music journalism, so instead of trying to poorly articulate my opinion (I just like what I like), I'm throwing up the cover art with the hopes that it gives you a semi-idea of what to expect from Charlie's music: ish is funky fun colorful ish, and will keep you dancing the whole way through.
Keep peeping Via for the proper release date, but for all the heads fiending for some new (and old) muzak, cruise on over to our Loose Tape section, where Chaz posted his spot on WNYU's Rotation. Available for streaming or downloading (is this what podcasting is? still unsure…), the mix should keep you kids occupied with enough tunes until the Captain comes back on May 2nd. And lest I forget, Charlie drops a sneak preview of the new EP midway through with La Reina.