Office recorded "Mecca," but released only in part online due to members leaving. Regardless, it's still a fantastic pop album.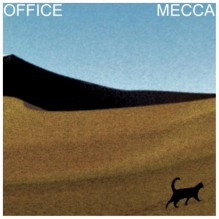 Office has been the brainchild of Scott Mason since 2000, (which predates the more famous British TV show) and has featured dozens of musicians but only Mason's songs. Mason writes subversive pop gems with sarcastic and prosaic lyrics. About four years ago, Office added Tom Smith on guitar and Erica on drums, and along with a few other musicians, Office achieved its highest success. The band independently sold over 20,000 copies of Q & A, signed to James Iha's Scratchie Records, released A Night at the Ritz, toured nationally, didn't quite break into the next level and left Scratchie. When Office began work on Mecca, the group was frustrated with the music industry and decided release the album independently.
Mecca is distinct from previous Office albums (there are at least five depending on what you count as an album) both in that there are no electronic or synthetic instruments save a few uses of an 1970's keyoboard, and it features a second songwriter in Tom Smith. Smith's songs are more straightforward and offer a good foil to Mason's approach. It's hard to argue that songwriting is better or worse than on any other Office album, because Scott Mason consistently writes brilliant songs. Every person has a different favorite Office song. What "Mecca" does better than previous Office endevours lies in production and execution. This Office lineup is the best ever and simply rocks. Some people even claim they were too tight, but I find them emotive and provocative. Furthermore, the production is warm, subtle and balanced; layered but not heavy. On first listen, I naively thought it was so good, no amount of bad luck in the industry could keep the band from broader success and personal satisfaction.
Instead, everyone except Mason quit. One issue, in addition to typical band breakup reasons, was Mason wanted to release the album only online for free, and the other members wanted physical copies that could be sold. Office canceled its New Year's Eve show and Scott released the album for free without Smith's songs at lastfm. Then the mudslinging began in Chicagoist.com and gapersblock.com in the form of interviews, reviews and comments on the sites. All very silly. And so, unfortunately, very few people will hear Mecca, especially with Tom Smith's songs. It is an old and sure to be repeated story.
Office – Nobody Knows You, Enter Me Exit You, Double Penetrate the Market from the album Mecca