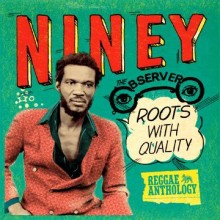 Niney the Observer, the Jamaican reggae singer and producer behind countless vintage dancehall hits, has never received quite as much shine as his contemporaries such as  Lee "Scratch" Perry. That is, until now. The good people over at 17 North Parade have put together a 2 disc compilation titled Roots with Quality spanning the past three decades of his output, with a strong focus on the classic tunes he cut at the height of his career in the mid-1970s. The artist roster reads like a who's who of reggae royalty: Delroy Wilson, Ken Boothe, Slim Smith, Gregory Issacs and Jacob Miller are but a few of the stars included. 
Niney, nicknamed so after losing a thumb in a workshop accident,  got his start at age 14 working as a music engineer for KG Records and eventually producing and voicing his own tunes for them. Soon after, he began producing tunes for release on his own Destroyer imprint in partnership with Coxsone Dodd of Studio One. In 1968 he started producing for Joe Gibbs' Amalgamated Records, taking the helm previously manned by none other than Lee "Scratch" Perry.  Perhaps Niney's biggest hit as a singer, "Blood & Fire" was originally released on Destroyer with only 200 copies pressed. The tune was extremely well-recieved, and Niney re-released it on his new Observer label, selling over 30,000 copies internationally in the process. "Blood & Fire" reached cult status despite grumblings by Upsetters organist Glen Adams that Niney lifted the melody from a recently released Wailers tune, and was declared the Jamaican Record of the Year in 1971.
Throughout the rest of the 1970s Niney was a driving force behind the changing reggae sound of that decade. Dennis Brown, who himself was working towards becoming more of a producer at the time, recorded some of his best-known tunes with Niney, such as "Here I Come" which was originally released on Observer in 1977. Niney remained active in production through the early 80s, working with Freddie McGregor on tunes such as "Chant It Down" and Third World for this compilation's title track "Roots with Quality." Niney is still alive and well today and spends his time between Jamaica, where he recently completed work on a new studio facility, and New York City.
Niney the Observer -Â Blood & Fire
Dennis Brown – Here I Come
Freddie McGregor – Chant It Down
all from Roots with Quality on 17th North Parade/VP (2009)