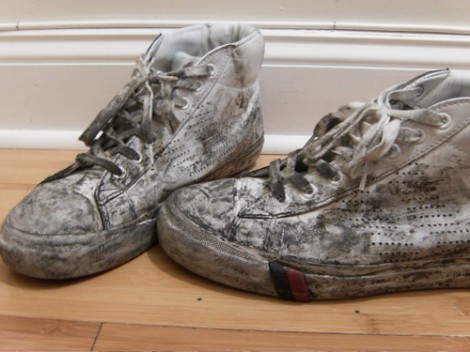 This is the state of my previously white Pro Keds after last night's crowd-surfing electro-punk warehouse party in Williamsburg. I dance a lot (pretty much why I started DJing), but it's still a rare occasion that I get a chance to go that crazy. Thanks to all the bands on the lineup (especially Team Robespierre, Juiceboxxx, & Ninjasonik) who induced nothing less than sweaty frenzy between each consecutive power outage (the momentary spaces for shouts and chanting only increased the intensity of the mayhem). Big shouts to Spankrock and Amanda Blank who were keeping things hype too. Here's some pics from the show (you can see me getting rowdy  in a couple). 
Today however, I needed some serious Sunday recuperation. Afternoon trip to the Russian & Turkish bathhouse with the homies, little bit of savory Israeli cuisine to take me back to Tel Aviv, and sitting back with some recent mash-ups that I've been loving lately. Erik The Red is a friend for a while now, and I only wish he would hit me up with blends like this more often. Jayceeoh is a cat I just met recently over the interweb, but I'm looking forward to DJ-ing together later this month when he drops a new Brazilian mix (stay tuned). Pretty cool to hear my own track get the mashup treatment (he used my beat "Fumando" on "I Know That's Gangster"). And "Blame It" is a guilty pleasure that I can't pretend not to love. Then I'm putting up a remix I just finished now for Mayer Hawthorne & The County. The og had me flipping when I first heard it, and from listening to the other joints on his myspace, the album sounds like it's gonna be a monster. Now I need to go find me some new PRO KEDS!!!
Mayer Hawthorne : Just Ain't Gonna Work Out (Captain Planet Remix)
Alice Russell : Hurry On Now (Erik The Red's Tubbified Mashdown)
Jaime Foxx vs. DJ Spinna : Blame It (Jayceeoh Edit)
Jay-Z, Sean Kingston, & Bun B : I Know That's Gangsta (Jayceeoh vs. Captain Planet Edit)
ALL MTR EXCLUSIVES!!!