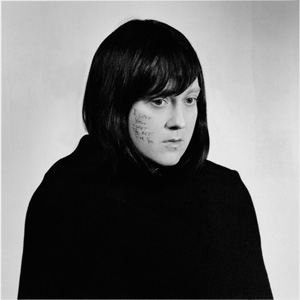 I wrote about Antony Hegarty a while back in regards to the release of Hercules & Love Affair's amazing self-titled debut, which kind of stole the show for me in terms of last year's cream of the crop records. I think that album appealed in particular to people like me: music heads who felt a significant void in contemporary electronic and/or disco music; folks who loved to boogie but maybe couldn't help harboring the suspicion that a lot of what they danced to was kind of wack. It was a record  that opened people's eyes in a lot of ways, not least of all to remind us that party bangers can be lyrical and complex and even beautiful. For them Hercules' depth resonated certainly in the music, but also, and perhaps even more importantly, in  Antony Hegarty's voice. That album left more than a few newbies wondering simply, "Who is that?"
If your only experience of Antony's pipes came from listening to the psuedo- psycho- emo- disco of that collaboration, then you're in for a treat. Because it's the softer, weirder, more elegant stuff that really thrills: music that sticks with you when you go to sleep at night; that drags you through the kind of screwy dreamscape you might find yourself in if you fell asleep watching Alice In Wonderland, Priscilla Queen of the Desert and The Shining… at the same time. His voice and the sonic landscape it inhabits burst with the sort haunting, sensual, confounding beauty that you might expect of a 6+ foot tall ghost-pale transvestite… which is to say, what expectations? 
For my part, I can't think of too many voices in contemporary music who have elicited the kind of physical response I registered the first time I heard Hegarty sing. I remember cringing. I remember my heart beating a little faster. I remember registering a deep gut tingle, perhaps in disgust, perhaps in awe. Certainly the lyrics themselves, which often alluded to the less-trod paths of sexual aberration, jarred me. I found myself regarding his music with equal parts suspicion, confusion and utter enthrallment. In some ways I felt almost victimized by the melodrama. Syrupy. Hyperbolic. Schmaltzy. But somehow, endlessly captivating. Was this the kind of stuff that you weren't supposed to admit you liked?  Was Antony Hegarty a hipster's Celine Dion? Maybe. But if it was schmaltz he was selling, the stuff worked like a potion. I've been hooked ever since.
That first encounter came just after the release of his second album "I Am a Bird Now", at which point I resolved myself to see him in the flesh. I've since watched him perform twice and each time I left the show nearly speechless. Live, perhaps even more so than on record, he is a force — smoldering with a subdued intensity that only crests from time to time as the trembling vibrato of his voice rises into a plaintive gale. His live shows reveal a musician clearly at ease with his vocal prowess and a man who thankfully hasn't forgotten that, at the end of the day, we all still like dance music. Thus Beyonce:
[youtube]http://www.youtube.com/watch?v=zGtmwZjGjyw[/youtube]
I'm supplying you today with a few other things to boot: a favorite track from each of his three albums and his new video, directed by, um, THE WACHOWSKI BROTHERS. (Did you ever hear of that movie called The Matrix?) Like I said, Alice in Wonderland meets Priscilla meets The Shining. Plus maybe a dash of A Midsummer Night's Dream. Bugged out.
[youtube]http://www.youtube.com/watch?v=Y30PCFVTyDQ[/youtube]
Enjoy. 
Cripple And The Starfish
Taken, respectively, from the LPs "Antony & The Johnsons" on Secretly Canadian (2000), "I Am A Bird Now" on Secretly Canadian (2005) and "The Crying Light" on Secretly Canadian (2009)