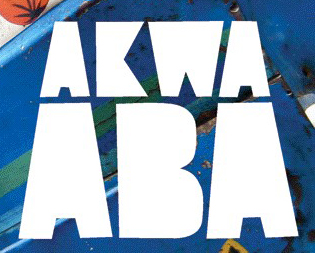 Sorry for lack of recent posts, I travelled to Philly and Baltimore on separate trips for shows and have been planing a bunch of parties here in NY too (more on that soon). Good thing I have amazing music to come home to. This week I was turned on to something extra special when the founder of Akwaaba Music personally hit me up with all their latest releases- an entire discography of brilliant, soulful and dancefloor friendly material. There was so much that it took a while to go through it all, but the long bus rides back and forth out of the city made for prime listening sessions, and the spirit in these songs immediately transported me back accross the Atlantic to the sunnier and warmer places that I remember in West Africa.
Benjamin Lebrave, the founder of Akwaaba, has made it his mission to spread music that rarely makes it out of Africa and he's staying busy. With 13 diverse releases already, I'm looking forward to a steady stream of new music in the near future. There's a whole gaggle of different styles and countries represented on the playlist I'm sharing today. I'm not the expert, so check out the links to album details for more info. And if you appreciate the music, please purchase these albums in their entirety to support the artists and Akwaaba – you'll thank me later when you have all the rest of the music too!
Kedjevara : Bas Tuyau Bas Serré (this one's for the dancefloor!)
taken from Le Meteorman
Quabena Philip : Wadaade Me
DJ Menza : Coup de Tête de Zidane
both taken from Move It Chaley!
Noite e Dia : Tiramakossa (Angolan Kuduro music for your ass!)
taken from Akwaaba Sem Transporte
Onyeze : Ndi Osita Osili (son of highlife legend Chief Stephen Osita Osadebe)
taken from Livin Dey Highlife
Kofi Sammy : Maame
Rahmane Diallo : Sira
both taken from Akwaaba wo Africa
Carlos Lamartine : Ó Dipanda Wondo Tula Kiá & Ene
both taken from Historias de Casa Velha (probably my favorite album of the bunch!)