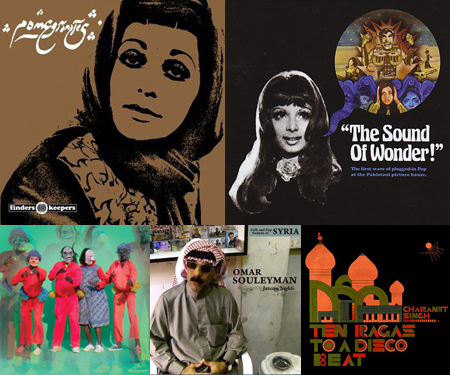 Something struck me today during my visit to Ameoba records Hollywood: compilations of highly obscure niche music from foreign countries is on the brink of becoming mainstream. When did it become normal for American music shoppers to battle between spending their hard-earned $18 on 70's Iranian psych-funk or "Electro New Wave Dance Music From South Africa"? I used to think I was a weirdo for seeking this type of thing, but based on the plethora of compilations spilling off the shelves offering these very genres, it would appear that I'm far from alone today. Look, I'm definitely not complaining, and god bless the label folks for giving some much deserved shine to artists such as Charanjit Singh who apparently single-handedly invented "Indian Acid House" back in 1982 (for a very enthusiastic and hilariously geeky review peep this), but I also am left to wonder- is there anything left to dig for? Call it digger's envy I suppose, but like I said, I'm not hating, just flabbergasted. I honestly wouldn't be surprised if life on another planet was finally revealed, not in a news report about some powerful satellite telescope, but in the press release for a new Andy Votel compilation of "Martian Moog Proto-Disco". Liner notes excerpt: "apparently a copy of Manu Dibango's Soul Makossa found it's way to Mars via a failed Nigerian rocket launch and the Martian party scene just exploded". Well, because I am still that weirdo who loves this stuff, here's a selection of recently compiled mind-melting music from around the world.
Zia : Helelyos
Parva : Mosem-e Gol
both taken from Pomegranates
Kamal Ahmed ft. Noor Jehan : I Am Very Sorry
from The Sound Of Wonder!
Zinja Hlungwani : N'wagezani My Love (check out the video for this song here)
Tiyiselani Vomaseve : Vanghoma
taken from Shangaan (and read here for more info about the scene)
Omar Souleyman : Hafer Gabrak Bidi (I Will Dig Your Grave With My Hands)
& Dazeitlak Dezzelli (I Signal
from Jazeera Nights
Charanjit Singh : Raga Madhuvanti & Raga Megh Malhar
taken from Ten Ragas To A Disco Beat