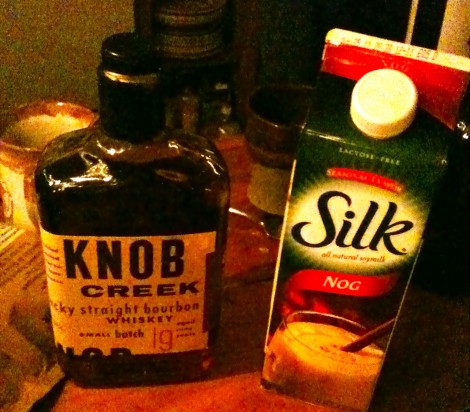 best bevy of 2010- the "Knob 'n' Nog"
I always have a hard time picking favorites. I think I technically could make a "Best Of 2010" list, but it would be so all-over-the-place and seemingly random that it probably wouldn't serve many of you readers anyway (Kanye & Mark Ronson would be on there next to The Black Keys and Quantic). In lieu of that, how about a handful of great new music that I just got? The best thing about the holidays is seeing family and friends, best thing about family and friends is raiding their music libraries. Looking back through my iTunes recent additions, I realize there was a gargantuan bucketload's worth of great releases last year and I'm honestly pretty excited about the state of music right now. I've also been hard at work in the studio, so 2011 should see some new developments on that front as well…
Miami Horror : Holidays & I Look To You
these guys are giving Duck Sauce a run for their money.
El Guincho : Bombay
wasn't really feelin this dude's first album, but Pop Negro is a big step up and the video for "Bombay" is bananas good (you will have to go through age verification to watch, but it's worth it).
Fitz & The Tantrums : Money Grabber (Party Supplies Remix)
fellow LA old souls get a nice rework here that's definitely going to find it's way into my DJ set
Hundred Strong : Time ft. Amp Fiddler & Find A Way ft. J Todd
check for the new album "Stylin Free" from this skilled Bristol beatsmith.
Kris Kasanova : Break Up & Caviar Dreams ft. Ibe
both from his new (FREE) album "The Long Way Home" produced entirely by my homie Ibe who also graces a few tracks with his smooth vocals.
Lord Echo : Thinking Of You , Wang East & The Book Keeper
had I gone through with a best of, this album would be on there. So so good.