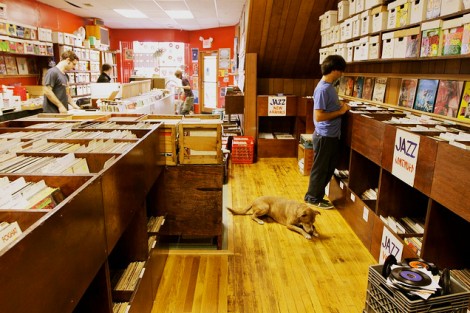 Yesterday was Record Store Day, which, if you're like me, means very little, because every day that I pass a record store becomes record store day. However, because it was an official holiday, I felt obliged to go out of my way and find a new spot. In the ongoing effort to avoid more gloomy scenes like the ones pictured here, I encourage each and every one of you to pitch in and do the same. As we all know, once you're inside the magical atmosphere of a good music emporium, you never know what you're going to find. Whether it's great music or great comedy that I stumble upon, I'm rarely disappointed. And while big record labels continue to struggle, and CD manufacturers shut down factories, vinyl sales are somehow still on the rise. Because I rarely have the time anymore to digitize my recently acquired bounty, I picked a very scattered selection today. But I also feel like it reflects the random nature of what you encounter at used record stores. Enjoy these songs, all from vinyl I've picked up in the past 9 months or so, and go find a new record store!
The Dance : Tumble To The Power & Past Is Past
I first heard about this record over at Waxidermy and had been on the lookout for a while. Thank you A1 in NYC (still one of the all-time greatest) for helping me check it off the want list. And if you want the whole record, Other Music has made it available digitally.
Ozo : Listen To The Buddha
I found this 7″ (along with a bunch of other good ones) in Detroit at People's Records (pictured above) when I was driving x-country last summer.
Orchestre Baobab : Sibou Odia
Good Records NYC gave me this one for a great price because of a little water damage to the cover. This place always surpasses its name.
Muscle Shoals Horns : Addicted To Your Love
I think I first heard this song on the legendary Soul Boulders mix, but I just pulled it recently, can't remember where.
Freda Payne : Suddenly It's Yesterday
This one's been a repeated revelation- those strings! Ameoba SF comes through yet again.
Johnny Thunder : I'm Alive
not to be confused with the guy from The New York Dolls, I learned about this Johnny from Doc Delay at Good Records NYC.
Ben Aiken : If I Told You Once ( I Told You A Million Times)
It's a little hard to play this one on repeat because it reminds me of my last girlfriend, but then I listen to "I'm Alive" again and feel better.