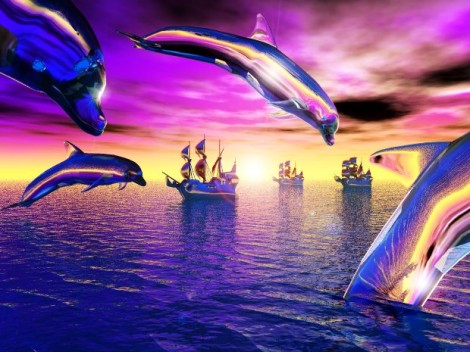 Greetings from the land of neon dolphins and candy coated pirate ships! The dancefloors here are slicker than banana peels on waxed marble and somehow everyone knows how to moonwalk. The parties are plentiful, the soma is free, and clothing is highly discouraged. That's where I'm at right now with this playlist.
Orgone : Cruel Intentions
LA retro-funk outfit killing it here as always, from the Killion Vaults album
Lyrics Bron ft. Sam Sparro :Â Coulda Woulda Shoulda (DJ Theory Re-Edit)
Theory basically made this track waaay more playable at the club by removing all rapping from Lyrics Born (sorry LB, it's just true)
Midnight Lab Band : Moonwalking
My Brooklyn homies come correct as usual here with a sick sample from Wganda Kenya and a lil bit of MJ sneaking into the mix
The Kickdrums : Somethings Gotta Give (Kutcorners Remix)
DJ Eleven's new 11-Inch label just keeps putting out HEAT. Go buy the other remixes from this EP plus everything else 11-Inch has to offer.
Kraak & Smaak : Dynamite (Boogie Funk Version)
Yes, these dudes continually straddle that border between funk and cheese, but so do some of my favorites by Zapp & Roger
The Electric : U R Diamonds
don't know enough about these guys to tell you anything, someone school me
YACHT : Dystopia
Why must there always be some dissent in Utopia? These guys just know how to make it sound really good.
Onra : Lying Besides You
There's no harsh "coming down" from Soma, but even if there were, this would surely cure it.