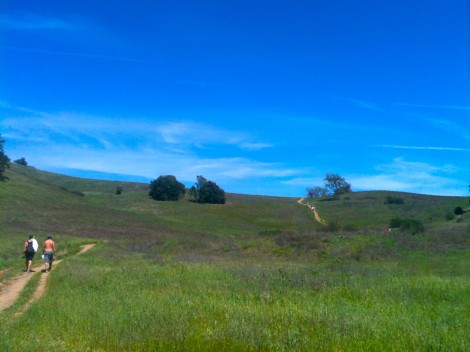 Would you believe that the majestic rural scene above lies within LA-proper?!? I'm already starting to love this city (at least parts of it). There's a waterhole in Santa Monica State Park (you can find it at the end of the trail in the picture above) that I plan on visiting weekly all Summer long. Maybe more often than that. Today I'm preemptively welcoming the most tropical of seasons with some very equatorial bass music. If you don't like dancing until your t-shirt turns see-through from sweat, then today's songs are probably not for you. Heavy, polyrythmic, trance inducing, slow builders. If I were to sum up the sonics here, I would have to steal the name directly from Steve Spacek & Mark Pritchard: Africa Hitech.
Sabbo : Come To Me
this guy is staying so busy right now. Check out a bunch more of his music and his recent EP on Generation Bass. Â You can buy the HQ MP3 from Beatport.
Jumo Daddy & FOKN Bois : Lungulungu
yet another heatrock dropped by Akwaaba records.  Get the HQ here. This one is gonna be in heavy rotation all Summer
Round Table Knights : Calypso ft. Bauchamp
All it takes is one little steel drum to make a monster
Douster : Journey To Tethys Sea
Young frenchman with a penchant for globetrotting beats. Check the whole EP here.
DJ Gregory & Gregor Salto :
indeed, once again, more cowbell wins!
Dubblestandart meets David Lynch & Lee Perry : Chrome Optimism (Kush Arora's Tropical Bass Remix)
I'm trying to imagine this meeting of masters in the studio, and it's slightly beyond comprehension. Check more remixes from this insane project right here.
Africa Hitech : Glangslap , Boingy & Too Late Dub
finally, the duo I mentioned earlier- Pritchard & Spacek. This project is really working for me. Glitched out afro-poly-rhythms and deep dubby bass synths. The first track comes off their brand new album, the second two songs are from last year's release which is equally as fresh (if not even a touch better).