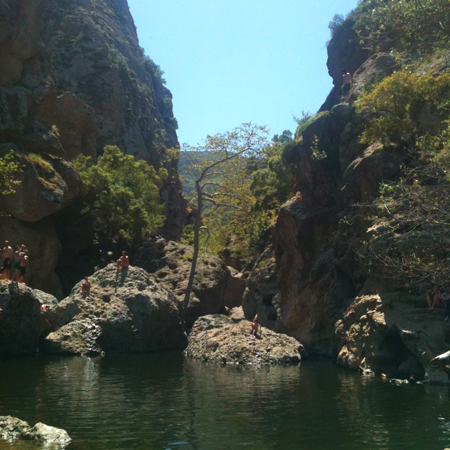 See that little dude up there on top of the cliff? He's about to jump. So am I. Add another link in the endless chain of sunny 76 degree days out here in La-La Land. Later this evening, sunbaked with a belly full of fresh cherries, I'll be taking over DJ duties again with Murphy's Law at our new weekly dance jammy. Come enjoy the festivities! If you're too far away for that, then just enjoy these tracks and figure out a way to get your ass over to the city of angels before it falls off into the Pacific.
P.S. – RIP Amy Winehouse. I didn't feel the need to add to the plethora of opinions and obit's dedicated to her right now, but I've been a big fan of her voice for years and was reminded of this album review (by young Murphy's Law) from the old blog back in '07.
Chip Wickham : Hit & Run
kick ass little 7″ that can be grabbed right here
Unknown : Las Cuatro Palomas (Geko Jones & Reaganomics Remix)
another heavy roots remix from Dutty Artz crew
Pollyn : How Small We Are
local LA band I caught on the radio recently. Definitely influenced by the Talking Heads. Â Got a great video too.
Omar & Zed Bias : Dancing
Omar is STILL killing it. I guess Tru Thoughts will be re-issuing his last album later this year.
Christian Hornbostel : Guanakos (Kinski's Daktari Child Rework)
don't remember where I got this, but you can find the whole release here
Scallymatic Orchestra : Freedom (Moto Remix)
Scallymatic pulled a pretty crazy flip on this classic Jimi Hendrix song. Moto just made it that much heavier.
Derek Allen : Spirits In The Material World
really loving this Police cover from the man behind a lot of Mad Decent records. Peep the EP
Opolopo : Take It Slow ft. Sacha Williamson Sounding like it's still '82. These guys are on the front lines of the boogie resurgence brigade.