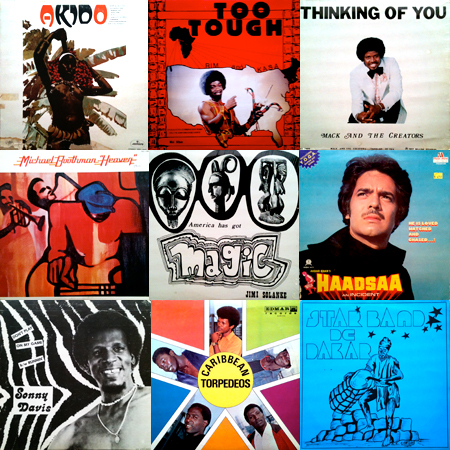 Sometimes I have to return to the basics, to the beautiful things that got me into blogging to begin with, and one of my primary inspirations for making music… OLD VINYL! I don't have the time to digitize these bad boys as often as I'd like, but when I do, you better believe I'm gonna pull out some secret stash gems. Here's a handful of recent digging discoveries, good ole gumbo funk for the masses…
Akido : Gone With Yesterday
Early 'afro-rock' crossover from Nigerian music maestro (and producer of Lijadu Sisters infamous 'Danger' album) Biddy Wright. I always knew about this record for its heavy percussion and K&D vocal sample (still sample hunting!).
Rim & Kasa : Love Me For Real
Most people know this funky ex-Fela drummer from his earlier LP Rim Arrives, but don't sleep on this 'mini-album'Â called Too Tough which introduced the wolrd to his unique 'Combination Music' & the 'Earthboogie Dance'. Sounds like pure 'Gumbo Funk' to me. Heavy break around minute 4 mark is NOT TO BE MISSED.
Mack & The Creators : Brick Road (Part1) & Brick Road (Part2)
Blazing disco funk from… BELIZE! This is the type of record cover that is almost unbelievably funky- brief life story on the back, crooked type set, afro pics aplenty. The beauty is just how pre-irony era it is.
Michael Boothman : Greasy
Boothman verges on too smooth here, but hits it home on Greasy with a hard syncopated breakbeat and airy vocals that would have been fitting on a top tier 70's release from Quincy Jones or Roy Ayers. The little steel drum is a nice touch in the mix as well.
Jimi Solanke : Owo Orisa
I really don't know much about the man behind this record, but once again, when I saw this record cover at the flea a few weeks back, I just knew it HAD to be good.
Kalyanji Anandji ft. Amit Kumar : Y.O.G.A.
old time Bollywood favorites of mine, the K&A brother duo come correct as usual on this epic multi-part moog-disco bomb dedicated to keeping your figure fly with the help of India's biggest export- YOGA!!!
Sonny Davis : Runnin'
from St. Thomas (the Virgin Islands) we have Mr. Davis. Also a member of Tremile & The Jamals, this 2-track disco 12″ might be the man's only solo release.
Caribbean Torpedoes : Love Making Mood & Freedom Ride
can we just take a moment to appreciate that these guys misspelled their own band name on the cover!?! Apparently a later pressing of the same record fixed that problem. I'm a total sucker for wah-wah ballads (shouldn't this be a genre?) and Love Making Mood is a prime example. Also a lover of drum breaks, and Freedom Ride has a goodie!
Star Band De Dakar : Cheri Coco & Malaguena
it's no secret that I'm a bit of a fanatic when it comes to African music. This is one of the few records here that I actually spent some significant loot on, and happily! This entire Star Band LP, while it may sound like it was recorded using technology from the 30's, is a beautiful coming together of Cuban classics with a Senegalese Mbalax twist.