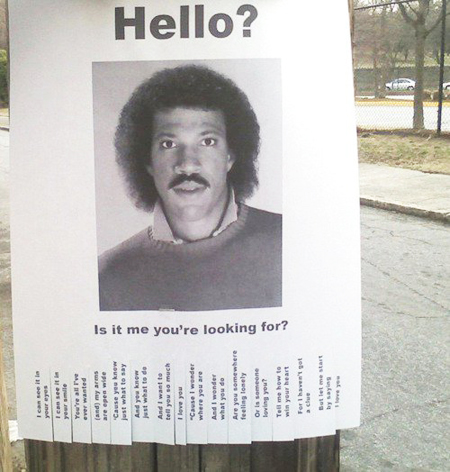 Started off the year with a massive hangover and a nasty cold that has left me coughing up lung butter a full week later. I know, it's gross. So I'm taking it easy with some slow burners right now, while chain-drinking tea and running through handkerchiefs like it's my job. Props to my friend Marlee for hooking me up with today's visual inspiration, which apparently has been floating around the web for a while. You can print one up yourself and watch as the R&B fans line up for their little piece of Lionel. 
Also, big shout out to Anita Brenner at DMX Music for naming my album "Cookin' Gumbo" the #1 World record on her best of 2011 list! Wow.
Woolfy : Odyssey
classy, smoothed out mid-tempo disco from an LA band that somehow I'd never heard of until recently.
Dale Earnhardt Jr. Jr. : Simple Girl (Tiger & Woods Remix)
epic slow builder in a spacey 80's boogie style. I'm now a fan of these guys.
Jesse Boykins : B4 The Night Is Thru
if you aren't already familiar with this cat, don't stop at this track, get acquainted.
Washed Out : New Theory (RAC Remix)
I think this guy wins the award for most appropriate name. The music sounds exactly like it should, with ever-busy RAC stepping in to make this one a little more head-nod-able. Perfect food for daydreaming.
Gardens & Villa : Orange Blossom
Heard these guys live on KCRW when they performed this track live. Slow bubbly indy-funk hybrid with an excellent usage of what sounds like a bamboo flute. Well done.
Coco O : Sleep
the voice behind Quadron (and a bunch of other side-projects), Coco O shines here on this very organic retro soul cut. Peep the release.
Chunking : Voodoo
while we're in this mellowed out downtempo soul vein, why not throw in an oldie but goodie. Here's Chungking
Freddie Cruger & Anthony Mills : Serious Drug & Come Closer
awesome collabo here. Props to my homie Freddie for making the first and BEST drunken-lounge-singer ode to cocaine.
Chromeo : I Can't Tell You Why
really nice to hear the pre-eminent torch bearers of 80's electro soul come correct on a straight slow jam.