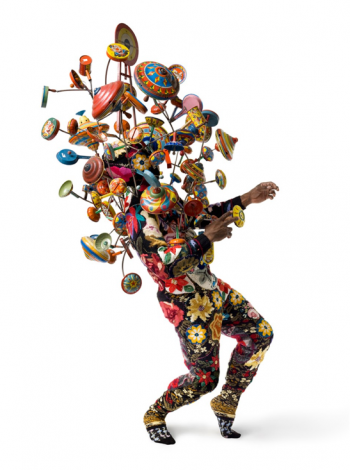 I was lucky to catch an exhibit of Nick Cave's Soundsuits (above) when I was in NOLA a couple months back. I keep going back to images of them for inspiration. If I could DJ a party and have everyone in the crowd dancing in one of these, I think there'd be nothing left to desire from life. Someday… In the meantime, some funky sounds to fuel your weekend shakedown.
Faraon Bantu Soundsystem : Macaco (Novalima Remix)
Novalima : Mamaye
both of these are from Novalima's new album. High quality material as always from this Afro-Peruvian future roots collective.
Palenke Soultribe : Choroni (Palenke Remix) & Te Veo
saw these guys live at the AfroFunke party a while back and they put on an extremely high energy show. Deep trance-inducing tribal rave from the Jungle. Check it out.
Ikebe Shakedown : Tujunga & No Name Bar
really love the classic sounding production on the debut record from this Brooklyn-based afrobeat group. And the fact that they cover one of my favorite slow jams by Sparrow's Troubadours ("No Name Bar") earns them extra music nerd cred.
Analog Players Society : I Can't Wait
my homie Amon (who's played percussion with me a few times) has put together a kickass band and their first release on Redbud Records is a handful of top-notch steppers reggae covers. Here's the studio he runs in Brooklyn. Can't wait to heat more.
Jimmy Cliff : Guns Of Brixton
superb Clash cover by one of the originators.
Grace Jones : Well Well Well (Dub)
glad to hear the 80's party godess coming back around to her dubby roots.