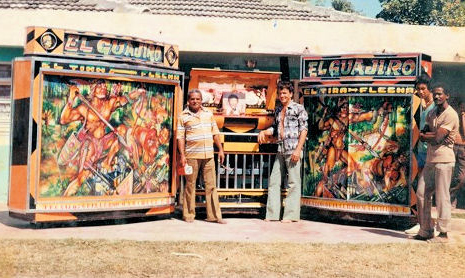 I know there's been a recent glut of cumbia in the music world. It may have even surpassed being a resurgence. I think there are more people today who know about the highly danceable South American music style than there were back in its heyday of the 60's & 70's. Wether it's a full-fledged rebirth or a passing internet fueled fad, I'm happy to hear it spreading. I've been hanging out with my little cousin this week, who's spent a significant chunk of time in Peru. Homie has a terabyte drive filled to the brim with South American heat among other styles, and you best believe I've been pillaging. Diving into his Peruvian stash reminded me how much other Cumbia-related goodness I've been sitting on for a while now, so consider this a benevolent purge.
Hector Ferreyra Y Su Conjunto : A Caballo (DJ Still Life Edit)
The same man behind the awesome Tropicaaliya project is back with a couple simple S. American DJ-friendly edits that I hope make their way to 7″ someday soon
Juaneco Y Su Combo : Caballito Nocturno & Vacilando Con Ayahuesca
From the Amazonian Jungles of Peru, Chicha master Juaneco mixes the sexy and psychedelic into cumbia better than anyone else. Can you imagine actually trying to have sexy time while your mind is melting on Ayahuasca???
Los Destellos : Guajira Sicodelica & Cumbia Morena
I have a few LP's by these guys that I've been meaning to digitize for a long time, but then I found the treasure trove in my cousin's stash this week, which makes my job of sharing a whole lot easier.
Cumbia En Moog : Cumbia De Sal
whoa… vampire cumbia?
Tulio Enrique Leon : La Pollera Amarilla
Got this one a while back from my dude Loki who is always travelling the world and knows how to dig up crazy tracks everywhere he touches down.
Chicha Libre : La Danza Del Millonario
Been a fan of this Brooklyn-based group for a while now (used to see them play in BK heights). I was happy to get this new material from them recently. New album coming soon I think.
Frente Cumbiero : Ika
Colombian based group who've been doing some really interesting suff, including a cumbia-dub collabo album with Mad Professor. This one's from a new 7″ on NYCT.
Los Miticos Del Ritmo : Otro Muerde El Polvo  (Another One Bites The Dust)
The ever-crafty Quantic is behind this new album of Cumbia covers all recorded on tape with analogue equipment. Check it out here on Soundway.