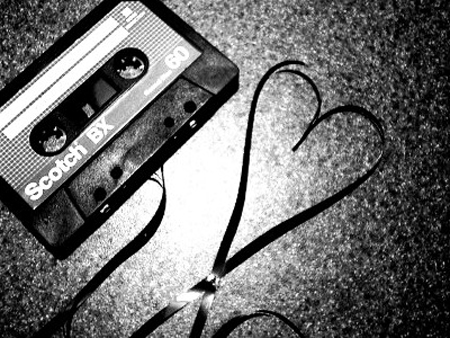 Ok, this is an unofficial survey: I've been having a strong hankering to press up a limited edition mix onto an ACTUAL CASSETTE TAPE. Would people even be into this? Not just any old mix, but something entirely eclectic and verging on epic, remember when mixes did that? I figure I could provide a limited MP3 download code in the liner notes so if you bought the cassette you could get a digital copy as well. I don't know, call me crazy, but I personally would love to have a new cassette to put in my boombox (and to whisper sweet nothings to late at night when we're alone- just me and my cassette tape). I know it would be a serious niche product, but I guess I'm wondering if the niche is just me, or if there are a few other people who would be in the niche with me. Anyway, listen to today's tunes, and then picture hearing them in a dope mix with all the other crazy shit you hear on this site- playing off an ACTUAL CASETTE TAPE! Let me know if you would join my niche and purchase one for $5.
Bell X1 : Flame (Chicken Lips Remix)
I've met a few flames who left me with a similar urge to toast marshmallows. Nice work Chicken Lips.
U-Tern : You Don't Know Me & Side Ways (ft. AJK)
new schitt from one of my favorite dance music producers.
Talking Heads : Psycho Killer (Drop Out Orchestra Rework)
really nice work from these guys.
Roxy Music : Love Is The Drug (Todd Terje Disco Dub)
and yet again, this dude continues to slay everything in his path.
Panama : Magic (Midnight Magic Remix)
smoothed out yacht funk sweater disco, from these Brooklyn hepcats.
Starcadian : Ronnie
unexpected quirky cosmic funk pop from this versatile BK producer.
Funkabit : Root Beer
simple & effective disco house from this young Italian
Eli Escobar : Anniversary
possibly the best track yet from NYC's steady hustlin Mr. Escobar. Get the whole EP here thanks to Dither Down.
Gui Boratto : Chromophobia & Gate 7
I don't tend to delve very deep into techno, but for Brazilian architect Gui I'll make an exception. Warning: listening may induce hypnotic trance states accompanied by serious mechanical productivity.
Mao : Harken (Dub)
mooooooody and deep. This is a sure-fire witching hour warehouse rave monsterpiece. Well done Mao.