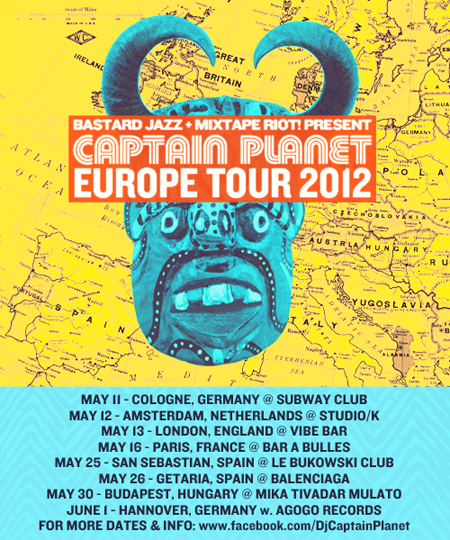 I'm over here in AMSTERDAM! This is actually happening. Check the dates and come out to a party if there's one near you. If you're missing me this time around, then get in touch with your local party people and make sure the same mistake doesn't happen again. Really excited to be over here, meeting new people, seeing new cities, and spreading good music. Kicking things off this week on Friday in Cologne with the Mash It Up! crew, then on Saturday I'm back in Amsterdam for the Wild Unlimited party which looks very promising. Sunday I'm off to London for a hot minute before pulling out all my old-school bombs for the legendary Tropical Discoteque party in Paris. That's just the start! Today's tunes are a lil taste of what's in store this weekend. Shout out to MPS Pilot (from the very dope 22Tracks web radio) for putting me on to a few of todays selections.
J-Rocc : Party
disco breaks + bollywood samples = some of my favorite things. Reminds me a bit of one of the first records I ever made. Check out J-Rocc's full album.
Funky Bijou : Funky Bijou Anthem
more funky bollywood, but this one is accompanied by a truly kick ass video too. Whole lot more breaks from these guys here.
Bass Il Euro : Hurry Kane
cool & quirky Moombah-style remix of Los Angeles Negros coming out very soon on Sol Selectas.
Bomba Estereo :  La Boquilla (Dixone Remix)
heavy, grimey, wobble-moombah remix of one of my favorite groups making moves right now in Colombia.
Bert On Beats :  Chega Mais ft. MC Gi
wow, this guy has so much HEAT.
Batida : Yumbala
old school Angolan guitars meet new heavy club electronic drums. Check out the album on Soundway.
Chris Brown :  Look At Me Now (Kid Konnect Remix)
Another one I stole from MPS Pilot, WTF?!? Who woulda thought a rootsy Juju beat would work so well with this? Apparently Kid Konnect.
Makossa & Megablast : Wangu & Imimi (ft. Tony Allen & OG Spiritual Godess)
afrobeat co-creator Tony Allen is still sounding funky as ever on this recent joint with Austrian-duo M&M
DJ Gregory & Gregor Salto : Canoa
another simple & effective latin club banger from these big room killers.
Skrillex & Damian Marley : Make It Bun Dem
don't know who cooked up this collabo, but I'm really not mad at it. Skrillex managed to tone down his harsh edge just enough to let Jr. Gong do his thing. Still pretty fucking hard.
Skarra Mucci :  Greater Than Great (Manu Digital Remix)
80's electo-dancehall stylee from the Polish Superfly Studio label.