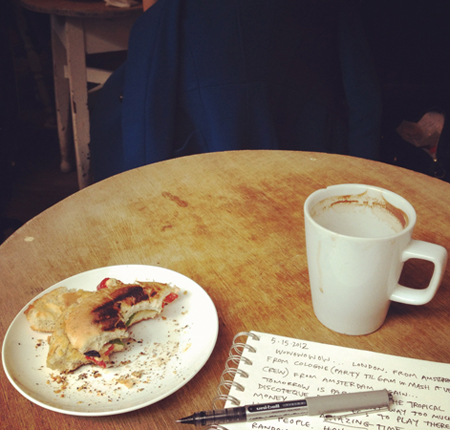 Greetings from Budapest! Running on fumes right now after another string of all-nighters through Spain and Basque Country (which is NOT THE SAME THING– as I recently learned). I'm definitely in need of a rip-van-winkle type snooze, but I wanted to check in and post some tripped out international sounds to try to at least hint at the level of mind expansion and multi-culti juxtaposition that I'm experiencing on my journey. Between DJing at haute-couture museums and Basque-punk street festivals, I've been having awesome conversations and making new friends even when I least expect it. If you happen to be in Hungary or the relative vicinity, then get your act together and come out to this party on Wednesday. If you're nowhere near, then just press play and take a trip anyway.
Tyrone Evans : Rise Up
one of the nastiest tracks I've heard re-issued in a long time. Early 80's Jamaican steppers disco dub originally on the Bronx-based Wackies label, now available as a 10″ along with a beat-heavy cover version from the good folks at NYCTrust. Don't snooz, get yourself a copy.
Edip Akbayram & Dostlar : Ayrilik (Baris K Edit)
Derdiyoklar Ikilisi :  Yaz Gazeteci Yaz (Baris K Edit)
both of these Turkish gems can be found on this excellent comp that came out recently.
Hoggar : El Fen
mysterious and highly sought after Arabic disco 12″ that has been reissued recently.
The Jeronimo Brothers : The Immigrant
Nora Dean : Angie La La
this mind-bender and the one above are both taken from this crazy mix by Dom Thomas. Shouts to my new homie in Barcelona Breixo for these and a few other tracks in today's selections.
Unknown Artists : Klout (Golem Edit) & Sumak (Golem Edit)
two mysterious tracks released as vinyl only edits by Golem 
Katie Kovacs :  Add Mar
had to post something from Hungary, and this one's a monster. More here.
Richard Schneider Jr. : Hello Beach Girls
Persimfans : E.S.P. (Drums)
these two last nuggets of mind-fuckery can be found on this Light Sounds Dark comp. Other than that, I know nothing about where they come from…