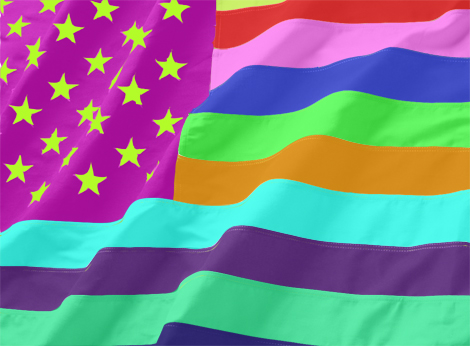 The rebellious birth of my nation is truly something to be thankful for, and grounds for at least a smidgin of national pride. I mean, who doesn't love a good tea party? Oh wait, certain American crazies went and fucked that up too. However, if there's one thing we can all agree on as the true strength and character of this big fat country, it's the gumbo that was already cooking when the founding fathers (and mothers) were fighting for independence. Every other country in the world has a population here, and probably an amazing restaurant or two (or two million, thank you China).  Best believe Thomas Jefferson loved some curry goat. After all the dirty dealings and clandestine violence that this country has been involved in (and continues to perpetrate), my search to find anything redeeming in my homeland has generally focussed on the healthy plethora of counter-cultures that plot and scheme and throw parties in the parking lots behind the McDonald's. So this year as the USA turns 236 (just a couple years senior to ole "Hanako" the koi), I'm once again celebrating fireworks with a soundtrack that includes not a single American pop song.
Makala : Friendly Fire (Smakalites Original Version)
produced by my Basque rumba-punk-surfer brother Makala. Check his album here.
 Ondatropica : Punkero Sonidero
what an insane project, but then again, I expect no less from Will Quantic.
Sierra Leone's Refugee All-Stars : Gbara Case
this whole album (produced by my dude Ticklah) is top notch.
Paco Mendoza : Fosforito (Vadim Mix) & Adicto
I kicked it with Paco in Berlin last month and couldn't believe I hadn't already heard his music. Not only is he an extremely rad individual, but he's got a massive catalogue of tunes- I'm hoping for a collabo soon…
The Funk Ark : Green Trees & Rancho
not re-inventing the wheel, but putting those firestones to work on bumpy tropical terrain.
The Soul Session : Hamjam (Pushin Wood Remix)
heavy organ and some nice little psychedelic touches on a solid cumbia 2-step, I'm not mad at this at all.
Congo Sanchez : Oleada Calor
dubby downtempo afrobeat that sounds like it was made during a heatwave. Check out more.
Sono Rhizmo : Soledad
another nice bootleg remix from the good folks at Resense.
El Rego : Zon Dede & E Nan Mian Nuku
heavy rootical sounds from an OG.
Alhaji K. Frimpong : Hwehwe Mu
surprised I haven't shared this one before. One of my all-time favorite West African songs (and the sample source for an afro-house classic).