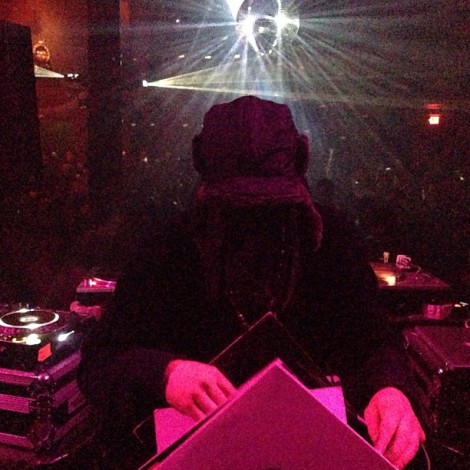 I had the extreme pleasure of gettin down to the soulful sounds of Moodymann late on Saturday night (after I finished DJ-ing at 2am). Huge shouts to my Angeleno bredren Jeremy Sole & Eric Wiseacre– aka The Lift. Still one of the dopest parties in the city, celebrating 3 years young! Partly inspired by the funky stuff I heard that night, but also just from recent internet gleanings and random radio discoveries, I present you with today's eclectic selections. The photo above (Moodymann stayed masked his entire set), comes courtesy of KCRW DJ Aaron Byrd (sorry I jacked your instagram feed homie!).
Toro Y Moi : Say That & So Many Details
I feel like this guy has really found his stride on this new material. I've been a fan for a while, but these new tunes are striking the bullseye.
Velour : Speedway
new collabo track from Julio Bashmore & Hyetal. Wish I had a higher quality rip to share, but maybe this dope video will make up for it.
Gemini Club : Ghost (Hey Champ Remix)
some nice 80's boogie sounds in this production from Hey Champ.
Black Amex : Pitch Black City
very tasteful edit of the disco classic "A Lover's Holiday" by Change. It's nice when you find that someone out there has already taken care of an edit that you'd been meaning to do. Props once again to Black Amex
Gwen McRae : All This Love I'm Giving
an old classic that I somehow just discovered.
ESG : Moody (Spaced Out)
yes, this actually got dropped on Saturday, and all was right in the world.
Sir Own : Hooked (Kon's Nite Time Remix)
King Kon comes highly correct on this silky smooth rework of Cerrone's "Hooked on You" from 1981. Get the 12″ if you can…
Gramatik : Break Loose
hard to be original when sampling some classic JB, but this usage of "Payback" gets my full approval. More funky stuff from Gramatik here.
Wave Machines : Keep The Lights On
simple infectious head nodder from these Brits
Charles Bradley & The Menahan Street Band : Stay Away (Nirvana Cover)
slept on this one for a while… can't go wrong when these soulful super powers combine.
Extra Classic : Congo Rebel & Give Them The Same (12
mellow rock-infused indy-reggae from this SF band