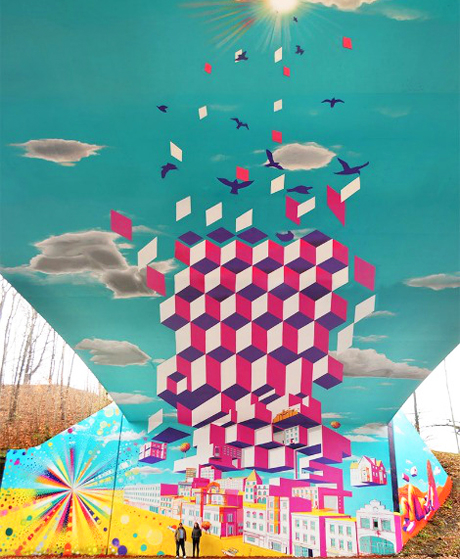 I'm forever in love with watching ideas, images and sounds travel huge leaps in time & space, often far beyond their creator's imagined reach. Could William Onyeabor possibly have pictured that thousands of people outside Nigeria would be playing his lo-fi, one-man-band synthesizer disco tunes, 40 years after he released them? Maybe, but probably not. With that in mind, I've been trying to imagine where listeners will be when they play the new music I'm making. I get pretty excited at the prospect of having one of my songs dropped at a rave on the moon (or even Mars) in the year 2056. I feel like we'll be partying in low gravity as soon as it's more economically plausible. A lot can happen in 40 years, and when it does go down, remember who told you about it first, and look for my old ass on the dancefloor. Finally, if you think that overpass artwork is as fresh as I do, check out more on Dasic here.
The Venus Flytrap Collective : PSILO
showing some solidarity with my people in The Philippines… this soulful gem comes courtesy of Ms. Badkiss (been sitting on it waaay too long). Luckily she, and my other friends in Manila are all fine, but do the right thing and support those in need if you can. More from V.F.C. (out of Manila) right here.
Débruit & Alsarah : Alkoan Baladi
sick collaboration and fusion of styles on this project. Another collabo between myself and Alsarah is in the works…
Karol Conka : Boa Noite
hit you in the face type bass from this up n coming Brazilian badass. Shouts to DJ Cato for putting me on to it.
Red Fox & Cocotaxi : Hot Like Fiya (Deejay Theory Remix)
another sureshot from my homie in the Bay.
Stas : Panama Accordion
big beat inna South American street market stylee. Thanks for DJ Gozar for this one.
Quantic & Nidia Gongora : Muevelo Negro
cotdaaaaamn! This latest release from Señor Quantico blends sub-woofer bass synths and folkloric marimbas beautifully. Powerful vocals from Nidia take this one over the top to classic status. Just may have to remix this one…
DJ Subversivo : Las Olas de la Mar (Subversivo Remix)
another nice one gleaned from the crates of Gozar. Check the full free ep here.
William Onyeabor : Good Name (Joakim Remix)
Now I may have known about this guy for a loooong time (since finding a vinyl copy of "Atomic Bomb" in the Ivory Coast at age 19!) but I'm very happy that Luaka Bop is helping spread the long overdue gospel.
Lord Echo : Digital Haircut
the Kiwi afro-disco-dub specialist returns with a vengeance! So happy for my dudes at Bastard Jazz, this whole release is TOP NOTCH. The vocals on "Moten Lava" just slay me. Do yourself a favor and get this record!
Djavan : Nereci
and who's gonna complain about a little vintage Brazilian funk nugget to round out the set?