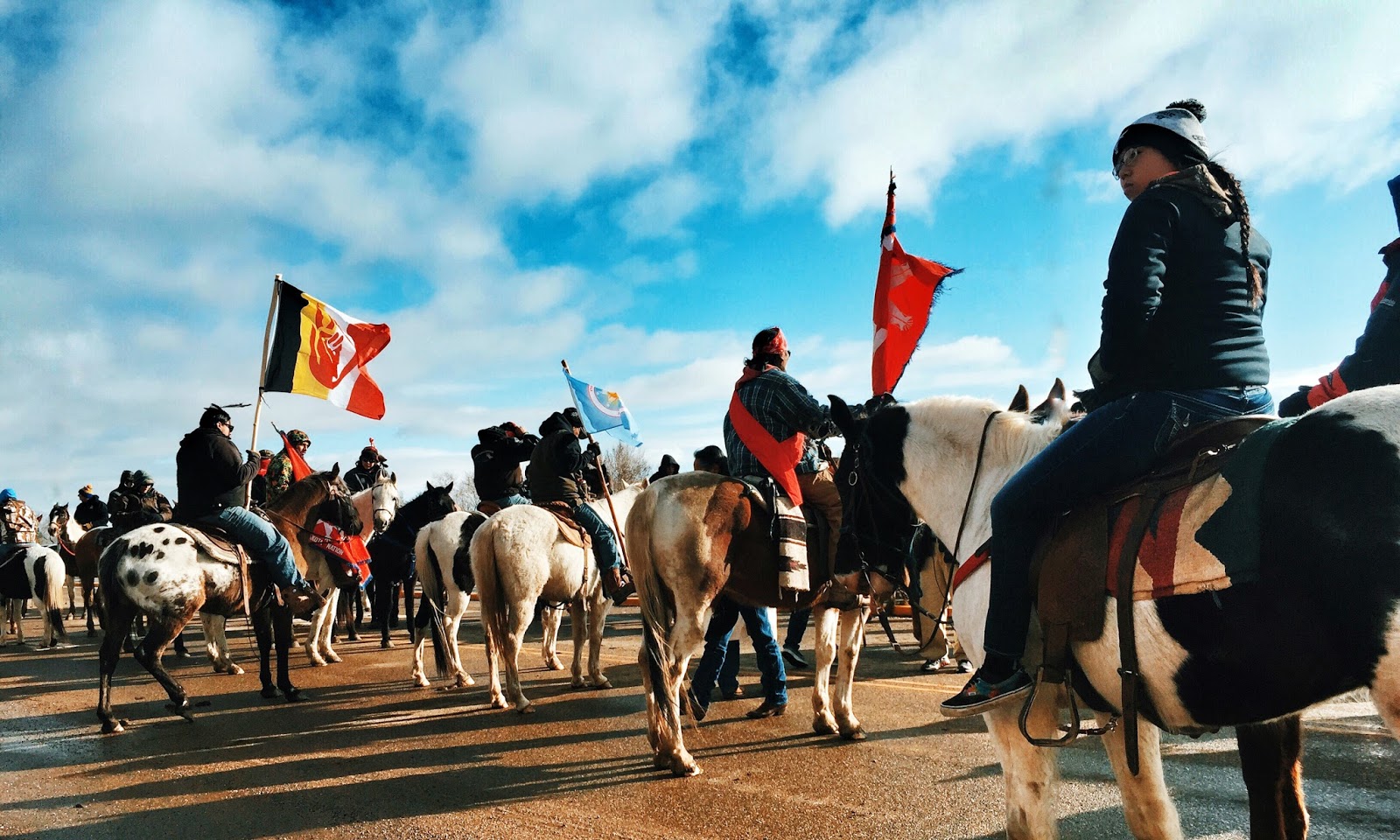 Tomorrow is Thanksgiving, a national holiday which we Americans proudly claim celebrates the Pilgrims' first successful harvest in the New World, a feat only made possible with help from the indigenous Wampanoag people & their European educated Patuxet ambassador Squanto. Considering that I can actually trace one branch of my family lineage to William Brewster, a spiritual leader who arrived on the Mayflower, I feel confident in saying that I would not be here today, if it hadn't been for the guidance, teachings, and peaceful generosity extended by those original Americans. That is something to be thankful for indeed.
Today, and for months now, a growing coalition of indigenous people and supporters from around the world are gathered in North Dakota, protesting the construction of an oil pipeline which is being built without proper permits or environmental survey. A local militarized police force is violently shooting crowds with teargas, rubber bullets, concussion grenades and water cannons in subzero temperatures to subdue the unarmed non-violent protesters, all in the name of protecting the investments of Energy Transfer Partners, a massive oil company from Texas. The whole thing wreaks of irony and infuriates me. There are things you can do, and I urge any of you interested to do more reading on the topic, to sign petitions, make phone calls, and to vote with your dollars by donating to the Sacred Stone legal defense fund, or the Oceti Sakowin Camp.
In the meantime, here's a playlist of songs, partially inspired by this Thanksgiving madness, and partially in memory of two musical giants who left us over the past week: David Mancuso & Leonard Cohen. Strangely enough, I had just recently been revisiting a collection of "Loft Classics" and had discovered a great interview with Leonard which aired in conjunction of the release of his new album. Check it out.