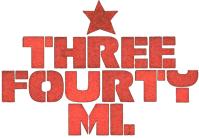 340 mL: Midnight, Running Away and Shotgun
Taken from a CD-R bootleg, as available on the mean streets of Maputo, Mozambique
It has been one of my great frustrations of the last 6+ months, to be in the midst of a continent so rich in music, and to be afflicted with such a severe shortage of both time and resources that I've hardly had any chance to seek that music out.
Especially in the last six weeks, based here in Maputo–a city with a very Havana-esque vitality and richness of musical heritage–I feel like a complete and total jerk for not having discovered a single slab of wax. Believe me, I've tried. Hunted down the old radio dj's, investigated the cd shops, even stopped hip-looking strangers on the sidewalk and, in my busted-ass Portugese, tried to esplain what I'm looking for: Dish-cos? Dish-cos antiguos? Nothing. So, like an idiot, I start trying to pull off an impromptu charade to explain that I'm looking for vinyl. Still nothing.
I've been met with a lot of blank stares and even some hostility. (One guy seemed poised to call the cops. I ran.)
So, I give up… Almost.
I've had no luck with the vinyl, but I have been able to tap into some other great stuff which I will hopefully be able to share with y'all over the course of the next little while. The club music here is pretty dope. Plenty of different styles from more straight forward hip hop, to reggaton sounding joints, to the lazily tropical marabenta, which kind of reminds me of a more bangin' version of Cesaria Evora. Then, of course, there's this. 340 mL.
This is a local quartet–now based in Johannesburg–blessed with a multilingual facility and some mean reggae chops. I heard the "Midnight" joint out at a club one night and have been bumping ever since (kind of reminds me of the "Midnight Marauders" joint from Michael Reinboth a couple years back). The super pared-down version of Bob Marley's "Running Away" is another winner. And the instrumental late-blooming double-time fire-starter, "Shotgun" might just work for a discerning dancefloor.
Check out 340's MySpace page here. Show love, show support, tell 'em to keep doing the do. And if you can, see if they know where to find records in this crazy town.