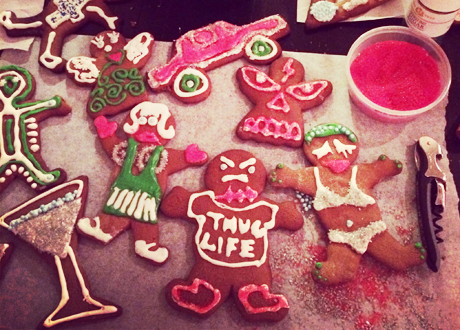 In my ongoing effort not to perpetuate mindless obedience to mass-marketing and gluttonous consumer hysteria, I will once again urge all my friends to make me mixtapes rather than buy me a new set of congas, or that really fresh button up from 10deep, or a set of platinum rims for my Honda Fit (although I won't be mad if you guys DO end up getting me those things). On second thought, I have too much music already. Dear Santa, GET ME A GOLD CHAIN!
Disclosure x Nile Rodgers x Sam Smith x Jimmy Napes : Together
holy hell yes! Do I even need to say anything after you read the line-up?
DJ Vadim : Black Is The Night ft. Katherin Deboer oldie but goodie, mellow reggae/hip hop vibes
Ash Reynolds : Don't Want To Let You Go
nice mid-tempo laid back disco edit taken from this new EP on Cloak Dagger's new label
Mayer Hawthorne : Wine Glass Woman
teaming up with Pharrell on this one, and you can hear it in the undeniable catchyness of the hook
Hubbabubbaklubb : Mopedbart
Norwegians rarely sound this funky. Don't know what he's singing about, but I can't help but smile every time he says "fart". Can someone Scandinavian please tell me what that means??? More from these guys here.
Dena : Cash
I like how this girl is doing her own thing. Nice bouncy remix makes it dancefloor worthy.
TJ Swann : And You Know That
old school disco 12″ rarity in the mix just because
Body Language : Just Because & Lose My Head
funky electro pop from this Brooklyn group
Franz Ferdinand : Right Action (Liv Spencer Rework)
exactly the kind of rocker-disco that pleases the skinny pants kids and funk heads alike, bravo.
Fitz & The Tantrums : The Walker & Out Of My League
big classic hooks are taking this local band to the next level of popdom and I ain't mad. Kinda reminds me of some Matt & Kim