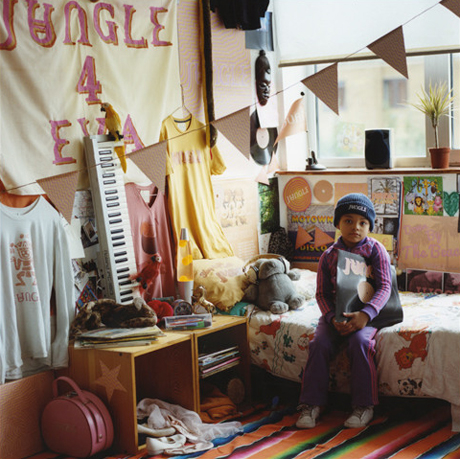 Everyone needs a little extra support now and then. From your homies, your significant other, your family, your pet, or even in the form of this little nugget of sweetness pictured above (also the cover art from an EP by Jungle– clearly she's their biggest fan). I haven't fathered any children thus far, but when I do, I will most definitely be getting them purple Adidas track suits and record players. Let's also remember to give credit to the wonderful DJ's of the world who give us support in the form of much needed new (and old) music. Sorry if that sounds like I'm patting myself on the back, really I'm just giving props because almost all of today's tunes have been stolen from other DJ's playlists. Tell a friend to tell a friend and let the spreading continue…
Big Data : Dangerous
dirty dirty bassline. The kind of rock that I like.
Mystery Skulls : Brainsick
basement produced electro pop
Class Actress : Careful What You Say
trippy indy synth pop
Janet Jackson : If (Kaytranda Remix)
sidechain compression done right on this soulful stepper's cut
Bobby : More Than Just A Friend
yet another project from maestro Robin Hannibal
Psapp : Wet Salt
no clue, but I dig it.
Thomas Dybdahl : This Love Is Here To Stay
Norwegian folk soul, perfect for lounging on a sheepskin rug in front of a fireplace, wineglass in hand, spooning your naked loved one.
Jungle : The Heat & Drops
understated psychedelic alt soul (with a dope accompanying music video)
Barnaby : Fresh Made Lemonade
smoother than silk, make your girl forget Drake type of ish
John Mayer : I Don't Trust Myself (With Loving You)
when I heard this song I had no clue who it was and that helped me get beyond the extremely douchey rep that this dude has. Maybe I'm an old man for loving this, but I consider it modern day yacht-rock done right.